7 cleaning hacks for Spokane homeowners
Posted by Ryan Tollefsen on Thursday, July 14, 2016 at 6:59 AM
By Ryan Tollefsen / July 14, 2016
Comment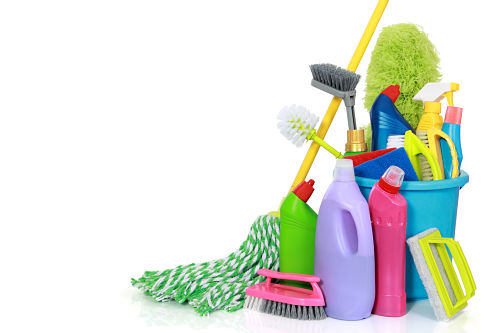 Spokane homeowners and renters share the same cleaning dilemma; you want a super clean home, but don't want to spend all your time cleaning it.
If you're still cleaning the way they did when Spokane was settled, you're missing an opportunity to solve that dilemma. The trick is to figure out which products work fastest, and protect your belongings longest. And here are seven cleaning hacks to get you started.
In the kitchen
Clean gas burners with ammonia – Stuff your gas burner rings into garbage bags (do it outside!) and add a splash of ammonia before sealing. Allow everything to simmer overnight before spraying off the caked grease with a garden hose.
Learn your kitchen cleaning products – Use sea salt to scrub cast iron pans, but turn to baking soda to clean your silverware (you know, the good stuff). And if you're wondering what will do the job on stainless steel pans, it's cream of tartar.
Clean your microwave and your sponges – Place your freshly rinsed sponge in the microwave for two minutes. When it's done, your sponge will be free from most germs you spread across the kitchen. Better still, you'll be able to wipe crusted food away with a paper towel.
In the bathroom
Make it easy to clean the toilet – Remove existing stains before backing the water out of your toilet. Dry the bowl completely before coating it with car wax (yes, car wax!). Wait ten minutes before filling the bowl and spend mere minutes every few months flushing vinegar through the bowl.
Clean fittings overnight – While you've got the white distilled vinegar out, liberally wipe it on your shower and sink fittings. Wrap each one with a plastic bag and allow the vinegar to remove soap and water stains while you sleep.
In the living areas
Keep baseboards cleaner for longer – Wipe your baseboards with dryer sheets rather than running a duster over them. Not only will they pick everything up, but these sheets will also prevent your baseboards from becoming a magnet for hair and dust
Use lint rollers on your lamp shades – Stop dusting lamp shades with a duster this instant. A link roller works wonders for actually removing the dust so that your shades remain in top condition for years.
Of course, there are plenty of other cleaning hacks that will save you time – and, yes, money too. You can get creative or visit your favorite housekeeping websites for more incredible cleaning hacks.