Best Condo Communities in Spokane: Your Condominium Neighborhood Guide
Posted by Ryan Tollefsen on Friday, February 26, 2021 at 7:52 AM
By Ryan Tollefsen / February 26, 2021
Comment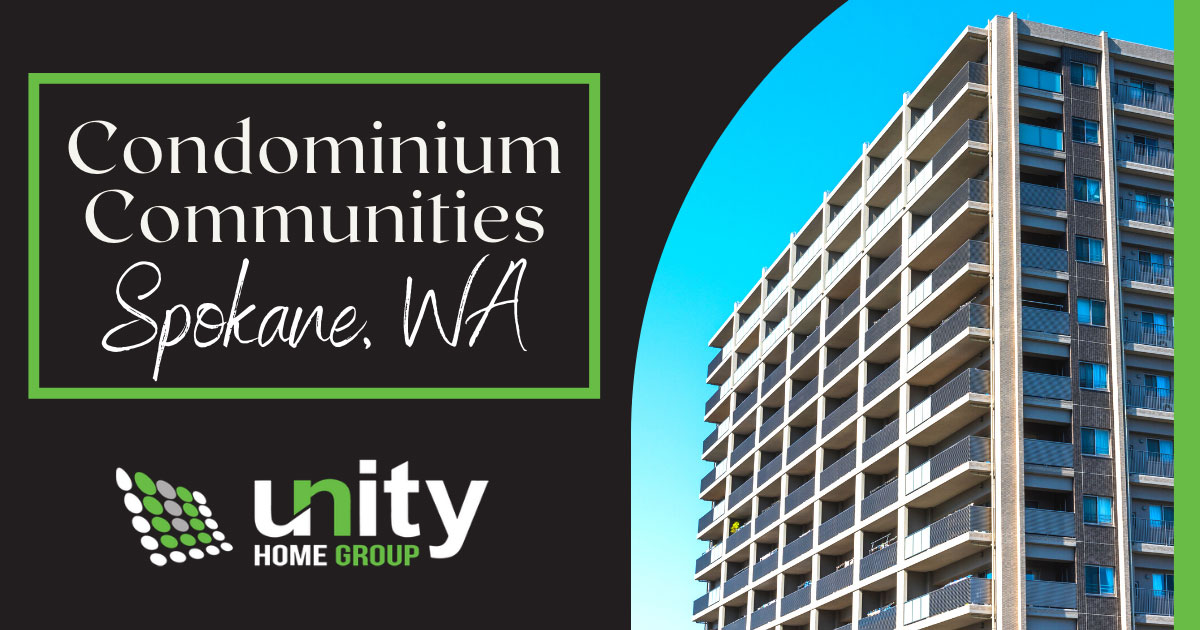 Spokane is the cultural hub of the Inland Northwest, with 223,266 people calling the city home. It is located along the Spokane River in eastern Washington, adjacent to the Selkirk Mountains and slightly west of the Rocky Mountain foothills. Spokane is Washington's second-largest city and an important economic center for the region.
Spokane offers its residents a wide selection of neighborhood vibes and architectural styles. From the historic South Hill district to the new neighborhoods on Spokane's north side, there is a diversity of housing options. Among the choices are condo neighborhoods. Appealing to homeowners who are looking for maintenance-free grounds and other amenities, condo neighborhoods continue to sprout up in downtown Spokane and other areas of the city.
Those planning a move to Spokane and are interested in the best condos in the city should consider the following five best Spokane condo communities to call home.
Upper Falls Condominiums
Upper Falls Condominiums Amenities
Riverfront
Walking paths
Scenic views
Located across the Spokane River and less than a mile north of downtown Spokane, the Upper Falls Condominiums offer spectacular views of the river's upper falls, the second-largest urban waterfalls in the nation.
The community is adjacent to Spokane's 100-acre Riverfront Park, which was the site of the Expo '74 World's Fair. Many homes within the community also offer views of the pavilion at Riverfront Park.
The park welcomes over three million visitors every year. Currently under extensive re-development, the popular park features a number of buildings left from the expo as well as other historic features, including a carousel and clock tower. In addition to views of the falls, the park features walking paths and a skating venue.
Upper Falls Condominiums consists of one 31-unit building. Residents are not only close to the park, but they have easy access to downtown and its retail, dining, and nightlife venues. Several restaurants are within walking distance of the neighborhood.
Upper Falls Condominiums Hotspots
Westcliff Condominiums
Westcliff Condominiums Amenities
Parks
Golf
Arboretum
Walking paths
Interstate Highway access
Westcliff Condominiums is an established condo community, located less than four miles southwest of downtown Spokane. The complex was originally built in the early 1970s and has been a Spokane landmark ever since.
The building features 50 condominium homes, ranging in size from 690 to 1,710 square feet, with one to three bedrooms. The community has a homeowner's association, which uses dues to cover costs for accounting, fire, insurance, water, sewer, garbage pickup, and maintenance of common areas.
Westcliff is located about one mile from the John A. Finch Arboretum, a 65-acre collection of native trees and woody plants. Visitors can take a self-guided walking tour and enjoy seasonal activities throughout the year.
Westcliff is also adjacent to the Indian Canyon Golf Course. Designed in 1930, the course has been recognized multiple times as a top 25 course in the country. It offers views of the city and offers diverse terrain.
Located in a residential area, most restaurants and retail establishments nearby are located in downtown Spokane. The community is also near Highbridge and Whittier parks.
Westcliff Condominiums Hotspots
The Ridge
The Ridge is a gated condominium community, located about 1.6 miles west of downtown Spokane. It overlooks Latah Creek as well as the Spokane River.
This community began in 1986 as an apartment complex, but it was later sold in 2005 and was converted to condominium living, featuring 136 units. The Ridge Condominium Owners Association was created in 2007.
The Ridge is a part of Spokane's historic Browne's Addition neighborhood. Established in 1883, it is one of the state's oldest neighborhoods and features many historic homes. The Ridge has a council that plans neighborhood-wide events throughout the year.
Within walking distance of downtown Spokane as well as a number of other destinations, including the Museum of Arts and Culture and a number of dining establishments, the community is also close to the city's oldest park, Coeur d'Alene Park. The nearly 10-acre park features playgrounds, a gazebo, a splash pad, and picnic spots and shelters. Other nearby parks include Highbridge Park and Overlook Park.
Pinewood Park Estates
Pinewood Park Estates Amenities
Parks
Clubhouse coming soon
University nearby
Easy highway access
Pinewood Park Estates is a community of leased luxury rowhouses and duplexes, located about seven miles north of downtown Spokane. The community is within walking distance of nearby Whitworth University. Duplexes in Pinewood Park Estates feature four upstairs bedrooms on each side, with the kitchen and living area on the first-floor level. Each side also features a two-car garage.
The community has two phases, with the first phase complete and consisting of 16 units. Upon completion, phase two will include a clubhouse featuring a big TV, a large multi-purpose room, and a full kitchen. Additionally, the finished development will provide residents with a recreation area and outdoor patio. The upstairs area of the clubhouse will also include several dedicated study areas.
Both Northwoods Park and Holmberg Park are walkable from Pinewood. Park amenities include walking trails and athletic courts. Also nearby is the Pine Acres Par 3 driving range.
Pinewood Park Estates Hotspots
Brookline Townhomes
Brookline Townhomes Amenities
Park
Shopping
Restaurants
Interstate Highway access
Brookline Townhomes include a grouping of duplexes and townhomes developed in 11 locations around Spokane and Spokane Valley. The rental properties feature residential neighborhood locations.
With a number of floor plans to choose from, residents can enjoy homes with an array of amenities, depending on the neighborhood. Features include decks or patios, front yards, driveways, large backyards, additional storage space, and attached garages. Residents enjoy maintenance-free lawn care.
Located about 13 miles northeast of downtown Spokane, the Brookline Townhomes community on North Arc Street is within walking distance of the city's Green Acres Park. The park features multiple playgrounds, a rock-climbing wall, a walking trail, and a disc golf and picnic area, as well as green space.
North Arc Street's Brookline Townhomes community also provides residents with proximity to shopping, restaurants, and nightlife. The townhomes also offer easy access to the Interstate Highway.
Brookline Townhomes Hotspots
Find the Best Spokane Condo Neighborhood to Call Home
Spokane's natural beauty, along with its standing as a cultural and economic center, offers residents a vibrant, thriving city to call home. This Pacific Northwest urban area offers a number of amenities, including a rejuvenated riverfront with scenic waterfalls, 87 city parks, walking trails, and cross country ski trails. Additionally, Spokane features robust arts and restaurant communities.
Spokane's neighborhood and architectural diversity offers its residents a multitude of options when buying a home or searching for leased properties. Among the city's neighborhoods are condominium and townhouse developments, many of them within close distance to the river or downtown district. If you're interested in taking up residence in a Spokane condo community, contact Unity Home Group at eXp Realty with Real Estate Spokane at (509) 808-4030 to learn more about which condo community in Spokane might be the best fit for you.