Best Golf Courses in Spokane: Where Are the Best Golf Courses Near Spokane?
Posted by Ryan Tollefsen on Monday, May 17, 2021 at 11:19 AM
By Ryan Tollefsen / May 17, 2021
Comment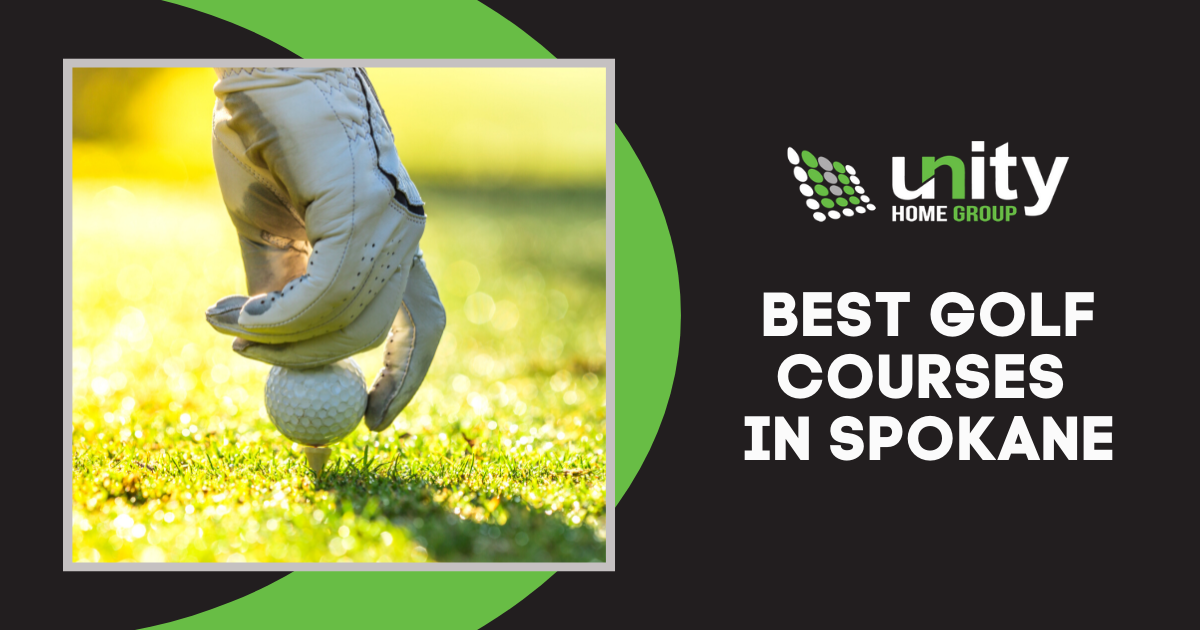 During the spring and summer months, locals and visitors dig out their clubs and head to one of the many exceptional golf courses in Spokane, Washington. There are dozens of places to play around town, ranging from easy par-3 and par-4 fairways to courses designed to challenge even seasoned pros. Read on to discover the best golfing destinations in Spokane that are sure to offer hours of enjoyment in the great outdoors.
Indian Canyon Golf Course
Indian Canyon Golf Course has hosted numerous major tournaments, including for the USGA, over the years since its development in 1930. Designed by H. Chandler Egan, this 18-hole treasure is repeatedly dubbed as one of the best 25 courses in the United States by noted publications, including Golf Digest. The course is open to the public, and the season starts in early March every year.
Constructed along a canyon wall with a 240-foot vertical drop, the course boasts scenic views of downtown Spokane. These holes are challenging between towering pines and the dramatic elevation switchbacks, with a back rating of 70.7 throughout the 6,255 yards of winter rye and poa grass greens. One must be on top of their game to achieve the par of 71 amid these hilly slopes.
Esmeralda Golf Course
Playing 18 holes at the spectacular Esmeralda Golf Course in Spokane is an exemplary experience. With 6,249 yards of regulation playing distance, the course has a 74.5 rating and a slope rating of 120. Making the par of 70 here doesn't require pro-level playing, as it's designed to allow for comfortable play without too many barriers, water hazards, and tricky holes. While it's a step up from the average par-3 courses in the area, Esmeralda can be a great confidence booster for amateur players without a huge arsenal of clubs.
The fairways here are relatively flat, and thousands of trees line the course to create a natural bunker. This northeast Spokane golf course is one of the most popular municipal courses open to the public. There is a pro shop here with equipment for sale or rent, and there is an onsite beverage and food provider in addition to traveling cart service on the course.
Downriver Golf Course
The Downriver Golf Course is the oldest in Spokane and has withstood the test of time with locals and visitors alike. In addition to 18 challenging holes, the course boasts enchanting views of the Spokane River and is picturesque even for non-players. Ideal for all skill levels with various tees, there are 6,130 yards of greens from the blue launches with a par of 71.
While most of the fairways are straight, there are a few doglegs to look out for, in addition to quite a few tree obstacles should one veer off course. Even though it's a relatively short course, Downriver delivers several surprises with uphill approach shots and shorter greens, so one must be cautious at trusting the viewpoints from the tee. There is also a snack and beverage area, pro shop, and a driving range on-site.
Wandermere Golf Course
The Wandermere Golf Course offers 6,115 yards of play. The course is open to the public and is one of the most visited in the community. Lined with tall trees, playing here is a unique experience. Situated in the Little Spokane River Valley, Wandermere is considered one of the most challenging places to play, even for experienced golfing enthusiasts.
While the views are exceptional, players are advised to keep their eyes focused on the ball, as the slope rating of 109 and course rating of 68.9 present plenty of water and tree hazards on the way to the greens. Guests can warm up at the practice bunkers, putting greens, or the chipping area before taking on the course. There are food and drinks available at the Wandermere clubhouse next to the pro shop.
Creek at Qualchan Golf Course
While the Creek at Qualchan Golf Course is one of the newest in Spokane, it has already developed a solid reputation with golf fans in the area. This par-72 course is 6,559 yards from the expert tee-offs and has challenges that even professionals may find daunting. It's situated in a natural setting with numerous species of wildlife and birds that take respite amid the wooded side bunkers. The well-protected greens lie between numerous water hazards that keep players on their toes.
While open to the public, the Creek at Qualchan Golf Course has the feel of a private club without the high prices, as rates are under $40 for 18 holes, even on weekends. There are pull-behind trolleys and golf carts available for rent at the pro shop. After the game, get a nice meal or cold drink at the restaurant and bar in the clubhouse.
Manito Golf & Country Club
The Manito Golf & Country Club is situated near many new construction homes and is a members-only golf course. The layout of the course was designed by renowned architect Arthur Vernon Macan and was the site of the 1944 PGA Championship. The legendary golfer Byron Nelson claimed these to be the fastest greens he's ever played.
There are 6,470 yards of tree-lined fairways from the expert tees with a course rating of 70.9 and a slope rating of 128. This lovely course offers putting areas, chipping bunkers, and fairway driving practice. Members can relax in the clubhouse for elegant meals and specialty cocktails with friends and family.
Kalispel Golf and Country Club
People have enjoyed the course and amenities at the Kalispel Golf and Country Club for more than 100 years. It's a well-conditioned course suitable for all skill levels of play, and there are pros on hand that offer private lessons for those looking to sharpen their game. Membership is required to play on the 18-hole, par-72 course, with memberships starting at $350 per month.
More than 50 bunkers and water hazards on the course make it challenging enough to keep experienced players coming back. The setting is simply superb, with numerous types of wildlife such as moose and deer frequently spotted in the woods by Rattlesnake Ridge and the Little Spokane River.
The club also features a driving range, chipping zone, and virtual golf simulators, and it boasts a personal training and fitness center for members to use. Members can play unlimited golf, use the facility's pool, and enjoy privileges at several courses across the region, as well. There is a hotel on-site, and the club offers stay-and-play packages to non-members.
Golfing Enthusiasts Love Life in Spokane
There's no need to live in a master-planned community with golf course homes to get your game on here in Spokane, Washington. You can just as easily visit the greens from your downtown condo or Spokane townhome. This northwestern city is loaded with public and private courses with a variety of scenery and amenities. With options ranging from short and straight courses to those that have surprises and hazards around each turn, there's sure to be a course or two here that will quickly become a favorite.
If you'd like to tee up every weekend in Spokane, contact Unity Home Group at eXp Realty with Real Estate Spokane at (509) 808-4030 to get in touch with a Spokane real estate agent who can help you move to a Spokane home with ideal access to your courses of choice.