Best Parks in Spokane: Discover Parks & Recreation in Spokane, WA
Posted by Ryan Tollefsen on Tuesday, April 13, 2021 at 2:55 PM
By Ryan Tollefsen / April 13, 2021
Comment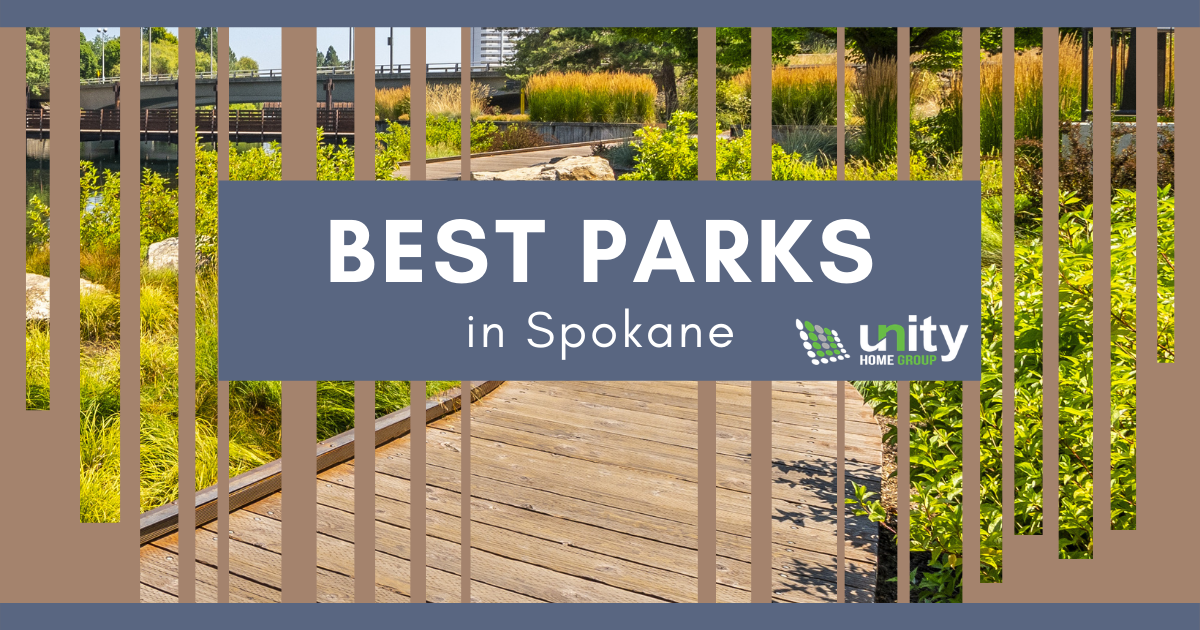 Whether it's summer, winter, spring, or fall, a visit to a park in Spokane provides the opportunity to enjoy the great outdoors while taking advantage of features like walking and biking trails, pavilions and picnic areas, campgrounds, water sports, wildlife observation, and scheduled activities and events. While Spokane has many things to offer, its parks and recreational areas go the extra mile in providing fun and relaxing locations with things of interest to see and do for all ages throughout the year. Here are some of the best parks in Spokane to visit.
Manito Park
Manito Park Amenities
Five botanical gardens
20 acres
Gaiser Conservatory
Mirror Pond
Playgrounds
Park Bench Cafe
Established in 1904, the 78-acre Manito Park offers a lovely respite. Visitors can enjoy various buds and blossoms in its five botanical gardens, set amid 20 acres dedicated to the colorful and visually appealing landscape. A visit to the Gaiser Conservatory offers a look at displays that depict each season, and during the holidays, it's the center for festive lights and good cheer.
The park offers scenic views, wildlife observation of assorted waterfowl at Mirror Pond (formerly Mirror Lake), and the Upper and Lower Playgrounds for younger visitors. When it's time for replenishing and refreshing, a stop at the Park Bench Cafe offers light meals, salads, pastries, espresso drinks, and other assorted edibles from May to September to please the palate.
This award-winning park earned recognition as "Best of Attractions - Spokane, Washington" in 2009. In 2007, Rose Hill earned the distinction of being named number one by All-America Rose Selections for its exceptional blooms.
Riverfront Park
Riverfront Park Amenities
100 acres
By Spokane River and Upper Spokane Falls
Pavilion's bridge
Numerica Skyride
Looff Carousel
Numerica Skate Ribbon
Providence Playscape
Sky Ribbon Cafe
Riverfront Park made its debut in 1978, four years after Expo '74 ended. The 100 acres transformed into a community park bordered by the Spokane River and the scenic Upper Spokane Falls.
In September 2020, Riverfront Park was ranked #3 out of 10 of America's Most Beautiful Parks by National Geographic. The park is conveniently near The Spokane Convention Center and within walking distance of River Park Square, where wining, dining, and shopping venues abound.
There is much to do at the park, from enjoying the views from Pavilion's bridge and Numerica SkyRide to taking a step back in time with a ride on the Looff Carousel. Rent a pair of skates or a scooter and zip along the Numerica Skate Ribbon, enjoy seasonal ice skating, and let kids have fun at the Providence Playscape. Wind down with something good to eat with homemade products at The Sky Ribbon Cafe.
John A. Finch Arboretum
John A. Finch Arboretum Amenities
65 acres
Native pine forest
Tours and seasonal activities
The arboretum is named after John A. Finch, who came to the United States from England as a young boy. Finch invested in many companies as an adult, including mining, hardware, lumber, and fruit. In 1891, he was elected to the State Senate in Idaho. Upon his passing, 40 percent of his fortune went to civic and charity organizations.
The John A. Finch Arboretum is nestled on 65 acres, where a variety of trees and plants compatible with Spokane growing conditions are labeled for field study. The cool recesses of the wooded landscape offer visitors an opportunity to stroll through an area filled with varying environments, including a native pine forest and colorful rhododendrons.
Throughout the year, tours and seasonal activities are available. Restroom facilities are open to the public from May 1 to October 31. Admission is free.
Minnehaha Park
Minnehaha Park Amenities
Tennis courts
Softball and baseball fields
Trails
Playground
Picnic tables
Minnehaha Park has a colorful history as a party place for adult fun at the turn of the 19th century. Efforts by the city founders were ongoing to remove the less-than-stellar reputation of the area.
Before its party town reputation, Minnehaha was the location of attorney Edgar J. Webster's summer home. Upon discovering a mineral spring, he converted the property into a soothing mineral springs spa in the 1890s. In later years, the property was sold, and the mineral water was used in a privately owned brewery.
Sometime between 1909 and 1913, the land changed hands again and converted into a park in 1924. In the interim, the land was the site for several motion pictures. Today, visitors to Minnehaha Park can enjoy a relaxing day of tennis, a game of softball or baseball, and trails to explore. There is also a playground with equipment for kids to play on and picnic tables for get-togethers.
Duncan Garden
Duncan Garden Amenities
Three acres
Colorful flowers
Stylized hedges
Manicured lawns
Fountain
Along with Rose Hill, Lilac Garden, Nishinomiya Tsutakawa Japanese Garden, and Ferris Perennial Garden, Duncan Garden is one of the five gardens in Manito Park. Each garden has a unique style, which has earned Manito Park national recognition as an area rich in its diverse plants, flowers, and horticultural displays.
Duncan Garden was named after John W. Duncan, who, from 1910 to 1942, held the position of park superintendent and both envisioned and put into place the architecture, structure, and planting schemes that have continued to make the park a source of enjoyment for the community. The garden stands out as a classical European garden depicting the Renaissance style of times past.
The three-acre park is a plethora of colorful flowers, stylized hedges, and manicured lawns featuring a network of paths among the flowers and a bubbling fountain.
Cannon Hill Park
Cannon Hill Park Amenities
Meadows
Duck pond
Stone footbridges
Those who want to enjoy a visual menu of colorful meadows, statuesque trees with leaves bending in the gentle breeze, a duck pond, and quaint stone footbridges should plan a visit to Cannon Hill Park, one of Spokane's most scenic and peaceful urban parks.
The picturesque neighborhood park was once a brickyard in the 1880s, where clay bricks were used in constructing buildings in the downtown area after the city experienced the Great Fire of 1889. When the clay ran out, the brickyard closed. In 1907, the Olmsted Brothers, who were landscape architects, created a plan for the park's layout.
The park was initially known as Adams Park due to its owner being the grandson of John Quincy Adams. It was later changed and named for local businessman A. M. Cannon. The park is cozy, as visitors can explore the area in less than an hour.
Cannon Hill is also just a short walk of about five blocks along a network of charming tree-lined sidewalks and boulevards to Manito Park.
Riverside State Park
Riverside State Park Amenities
9,000+ acres
Rock climbing
Hiking, biking, and horseback riding trails
Kayaking, paddleboarding, and water skiing
Fishing
Space for snowshoeing, cross-country skiing, snowmobiles
Picnic shelters and campgrounds
Riverside State Park had its beginnings in 1933 and 1934 when the Civilian Conservation Corps began developing a historical area known as a hub for fur trading and a place where Native American tribes gathered. The 9,000+ acre park is home to a diverse environment that includes marshes, lakes, towering pines, and an abundance of wildlife species.
There is something for everyone to do at the park, from rock climbing, 55 miles of hiking and mountain biking trails, and 25 miles of trails for horseback riding to kayaking, fishing, paddle boarding, and waterskiing. During winter, the park is an excellent choice for snow enthusiasts who enjoy the challenge of snowshoeing, cross-country skiing, or zipping across the landscape on a snowmobile.
Riverside State Park also offers picnic shelters and four campgrounds. Located about nine miles from Spokane, residents and visitors are just a short drive away from all the activities the park offers.
Spokane's Park Pleasures
Residents of Spokane and visitors to the city can enjoy a full itinerary of attractions, places to go, and things to do nearby their homes, whether they live in a luxury house in one of Spokane's most sought-after locations or a historic property in a more affordable neighborhood. Among those activities is to take advantage of a beautiful day to enjoy outdoor fun at local Spokane parks. Whether it's a walk around an urban park, enjoying the Spokane skyline aboard the SkyRide, or maneuvering through the forest on a mountain bike, the best parks in Spokane offer the opportunity to explore history, creativity, and beauty while experiencing harmony with the great outdoors.
Are you interested in making Spokane your home? Contact a Unity Home Group real estate professional at 509-808-4030 to find your Spokane dream home today.