Best Places to Live Near Spokane, WA
Posted by Ryan Tollefsen on Friday, January 22, 2021 at 12:03 PM
By Ryan Tollefsen / January 22, 2021
Comment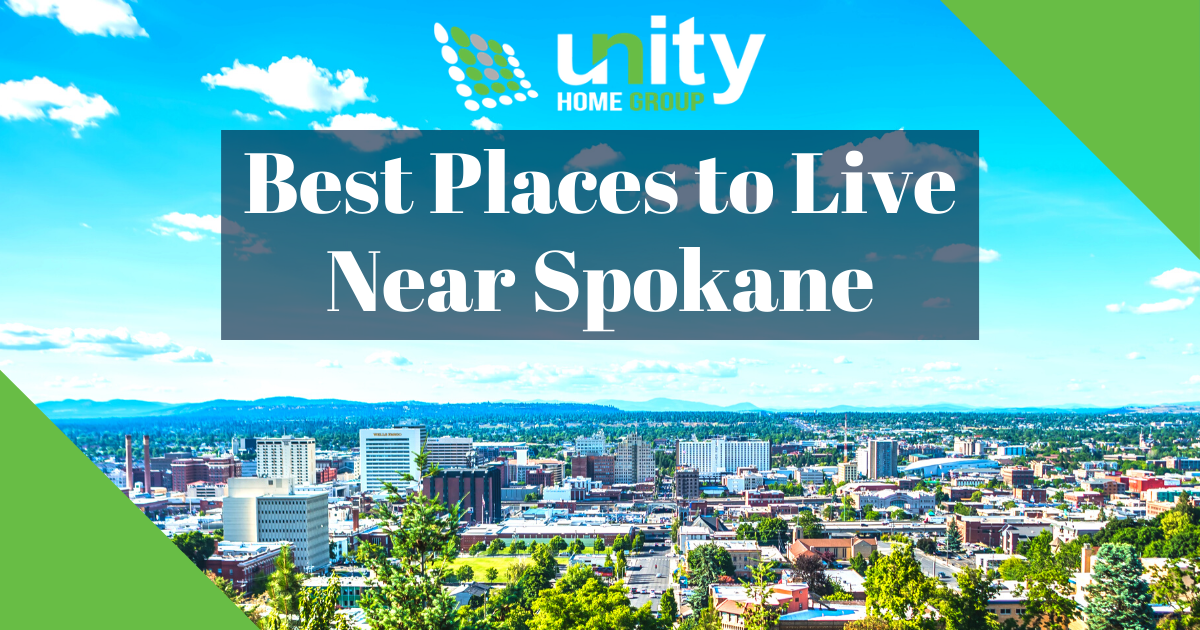 Best Places to Live Near Spokane: Spokane, WA Area Town and Spokane Guide
Spokane is a city in eastern Washington state, along the river of the same name. About 223,266 people reside in Spokane, making it the state's second-largest city behind Seattle.
Spokane is situated along the Selkirk Mountains, west of the Rocky Mountain foothills. It serves as the cultural hub of the Inland Northwest. Spokane is home to the Northwest Museum of Arts and Culture, preserving the region's history through art, culture, and Native American heritage. The city is also home to Riverfront Park, site of the 1974 World's Fair. The park features a cable car offering views of Spokane Falls, as well as a sculpture walk.
Those planning a move to Spokane should learn about the following best places to live near the city.
Liberty Lake
Liberty Lake Amenities
Parks
Golf
Trails
River access
Lake nearby
Restaurants
Located adjacent to the lake of the same name, Liberty Lake is a Washington suburb lying east of Spokane. The city lies only about a mile from the Washington-Idaho border, making it a suburb of both Spokane and Coeur d'Alene, Idaho. About 11,370 residents call Liberty Lake home.
The community was previously known as Arturdee. Its current name was derived from the name of an early pioneer who had changed his name to Steve Liberty. Liberty Lake was incorporated in 2001 and today is one of the state's fastest-growing communities. Interestingly, the lake of the same name actually lies outside the city's limits.
Residents appreciate Liberty Lake's dense suburban vibe and its many parks, trails, and greenspaces. The city owns and operates three parks, while a number of additional neighborhood parks and open spaces dot the landscape within the city limits. Liberty Lake also has over 25 miles of multi-use trails, as well as three golf courses and public access to the Spokane River.
Mead
Mead Amenities
Park
Sports complex
Restaurants
Shopping
The community of Mead is home to about 6,870 residents and is located on the northeast edge of Spokane, adjacent to the city. It is an unincorporated suburb and census-designated place.
Mead was named after Civil War General George Meade. The community developed as a stop along the Spokane Falls & Northern Railway. It was first established as a community with the construction of a general store, school, blacksmith shop, and church.
Today, Mead offers residents and visitors a number of attractions. Wonderland Family Fun Center provides families with a host of indoor and outdoor attractions. Mead's Cat Tales Zoological Park rescues and protects big cats and other wildlife. Mead also offers a number of restaurants, from casual diners and cafés to European cuisine.
Fairwood
Fairwood Amenities
Golf
Parks
Trails
Shopping
Restaurants
Fairwood is a census-designated place located in Spokane County, Washington, less than 10 miles north of Spokane. About 8,554 people live in Fairwood. The area offers plenty of opportunities for outdoor activities.
Golfers can enjoy two courses located within the community. Founded in 1898, Kalispel Golf and Country Club is nestled along the Little Spokane River. The 18-hole course is known for its natural landscaping and frequent wildlife sightings. The grounds include a pro shop, country club, pool, dining, fitness center, and other amenities for members. Fairwood is also home to Pine Acres Par 3 Golf Course and driving range, located along state highway 395. The family-owned, nine-hole course includes a fully stocked pro shop.
The county operates two parks in the Fairwood area. The nearly 10-acre Camelot Park features a playground, picnic areas, and a basketball court, as well as open greenspace. The 5-acre Northwoods Community Park offers a picnic shelter with a barbecue area and playground.
Trailhead and Switchback are hiking areas in Fairwood that offer trails that take advantage of the area's natural beauty.
Spokane Valley
Spokane Valley Amenities
Parks
Water park
Shopping
Restaurants
Museum
Event center
Shopping
Restaurants
Spokane Valley lies about 10 miles east of Spokane. Incorporated in 2003, it is Spokane's largest suburb with a population of 102,812 people. The city was formed by combining several urbanized, unincorporated areas east of Spokane.
The city's arts and culture include a museum and public art displays. The Spokane Valley Arts Council maintains an exhibit of local artists and commissions sculptures and other public art pieces for community parks and buildings. It also sponsors an Artist Showcase Auction and Fundraiser every October. Additionally, The Spokane Valley Heritage Museum was established to preserve and exhibit the city's history and culture, including archives of photos and documents.
For sports fans, the city's Avista Stadium is home to the Spokane Indians, a minor league baseball team affiliated with the Texas Rangers. The city is also home to a number of events, including the county fair and the Valleyfest, a community celebration that draws 50,000 people annually and features a parade, live music, and exhibits.
Cheney
Cheney Amenities
Parks
Museums
Trails
Golf
Restaurants
Shopping
Cheney is located about 16 miles southwest of Spokane. The city has a population of about 12,692 residents. Cheney is the home of Eastern Washington University, which temporarily increases the population each term by about 7,000 additional residents. Historically a booming railroad town, Cheney was officially incorporated in 1883, named after Benjamin Pierce Cheney, a director of the Northern Pacific Railroad.
Historic downtown Cheney, just four blocks from the university's campus, is home to a mix of business and retail establishments. It is the site of numerous community festivals, the farmers market, and the Cheney Historical Museum. Additionally, downtown offers entry to the 130-mile multi-use Columbia Plateau Trail, part of the Washington State Park system. Four trails in the Cheney area provide access to the Columbia Plateau Trail, including the Cheney Trailhead, Fish Lake Trailhead, Amber Lake Trailhead, and Martin Road Trailhead. There are also a number of other recreational opportunities not far from the city, including golf, white water rafting, and snow skiing.
Medical Lake
Medical Lake Amenities
Lakefront
Restaurants
Parks
Boat launch
Trails
Medical Lake lies about 15 miles southwest of Spokane and has a population of about 4,995 residents. Incorporated in 1890 and offering waterfront homes, Medical Lake takes its name from the nearby lake of the same name. Its downtown is only one block from the lake. The settlers and indigenous people of the area promoted the belief that the lake water and mud possessed curative powers.
Medical Lake is home to several parks, among them Waterfront Park with a sandy beach and picnic areas. There is also a boat launch for non-motorized boating. In addition to Waterfront park, other parks feature athletic fields, playgrounds, and opportunities to observe wildlife. In addition to Medical Lake, West Medical Lake lies along the city's western edge.
The Medical Lake Trail system consists of approximately four miles of multiple paved trails, including the popular lake trail. There are also a number of other lakes, all within about 10 minutes from the city.
Discover the Best Places to Live Near Spokane
As the county seat and economic hub of the Spokane metropolitan area, Spokane relied heavily on mining, timber, and agriculture until the 1980s. Today, Spokane's economy focuses primarily on the aerospace manufacturing, digital media, health sciences, insurance, professional services, information science and technology, finance, and clean technology sectors.
The Spokane metro area has a population of about 573,493. Transportation from the city to surrounding communities is made convenient, with Interstate Highway 90 running east-west through the city. When complete, the North Spokane Corridor will provide additional limited-access highways. There have been other signs of growth in the city as well, with measures like land use mix, development density, and street accessibility.
If you'd like to know more about which community near Spokane might be the best fit for you, contact Unity Home Group at eXp Realty with Real Estate Spokane at (509) 808-4030 to talk to a local real estate agent and get started finding your ideal home near Spokane.