Iconic Restaurants in Spokane, WA: Spokane Dining Guide
Posted by Ryan Tollefsen on Wednesday, January 13, 2021 at 10:18 AM
By Ryan Tollefsen / January 13, 2021
Comment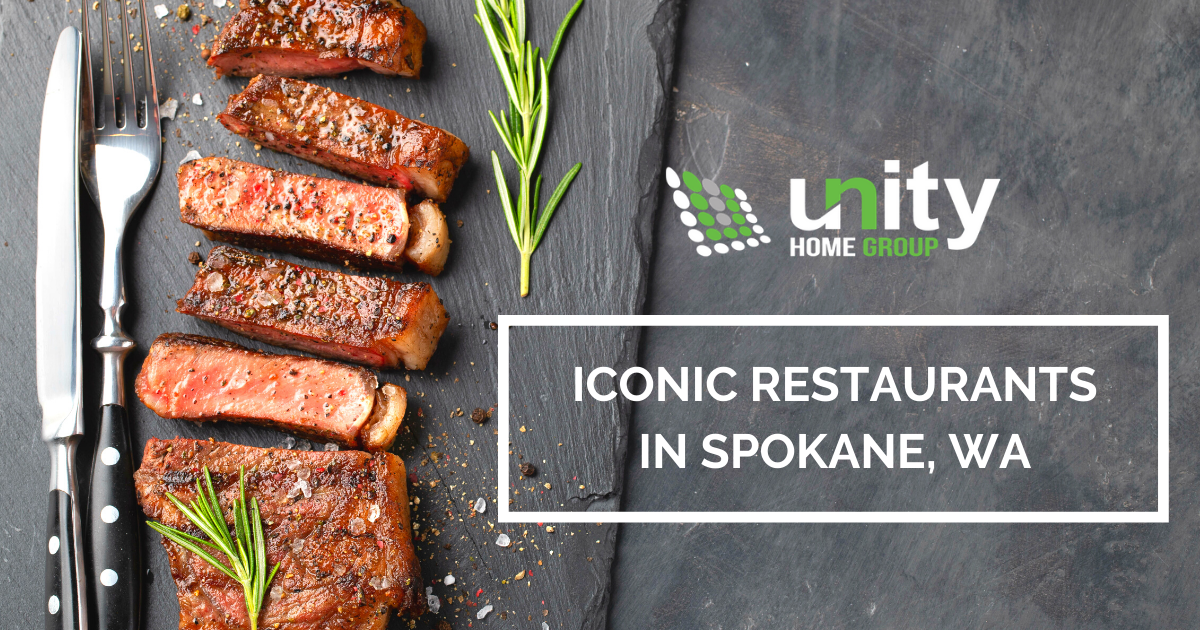 Spokane, located in eastern Washington along the Spokane River and to the west of the Rocky Mountain foothills, is the second-largest city in the state. Those who live in, would like to visit, or perhaps even move and relocate to Spokane, Washington, are probably curious about the cuisine they will find in this city.
For many people, having more insight into the type of food and restaurants in the area is vital information, as food is a way to showcase what the area's culture is like and what to expect when they go out and about on the town for a nice meal during the day or evening. The following six best restaurants are amongst the most famous in Spokane.
The Elk Public House
Popular Dishes at The Elk Public House
Grilled Lamb Sandwich
Santa Fe Chicken
Bulgogi Beef Tacos
Swimming Angel
Address: The Elk Public House, 1931 W Pacific Ave, Spokane, WA 99201
Established over 20 years ago in 1999, this Spokane classic is located just west of downtown in the heart of the historic Browne's Addition neighborhood. The Elk notes that it has one of the best patios in the neighborhood, and it is also known for its creative weekly specials, homemade soups, and inventive cocktails.
This spot is known for its many craft beers available, plus its delicious sandwiches and specials for a more laid-back vibe and easy meal and drinks. The Elk Public House is a great local pub that was originally an old pharmacy, so visitors can enjoy its unique style while sipping on a microbrew and devouring one of their delicious sandwiches.
Great for either lunch or dinner, The Elk Public House is open from 11 a.m. to midnight.
The Flying Goat
Popular Dishes at The Flying Goat
D Street Pizza
Fairview Pizza
Garland Chicken Sandwich
Waikiki Pizza
Address: The Flying Goat, 3318 W Northwest Blvd, Spokane, WA 99205
Similar to The Elk Public House, The Flying Goat also offers neighborhood craft beer, though different options with very different food in another neighborhood. Known for its Neapolitan-style pizzas and specialty craft brews, this gastropub is highly rated by its patrons.
Created in 2010, The Flying Goat prides itself on honoring the craft of artisan pizza-making and was inspired by the flavors, aromas, and legacy of Neapolitan-style pizzas. But food isn't the only important thing on the menu—The Flying Goat chooses the craft beers just as carefully as it decides what flavors to match on their pizzas. Though pizza is what this restaurant is best known for, The Flying Goat also offers many other food options such as sandwiches, appetizers, salads, and more.
The inside of this restaurant has an industrial feel, with its "flying goat" head on the wall proudly displayed with neon lights to make it truly stand out. Offering both indoor and outdoor seating, The Flying Goat is open from 11 a.m. to 10 p.m., making it a great spot for either lunch or dinner.
Clinkerdagger
Popular Dishes at Clinkerdagger
Herb Crusted Roasted Prime Rib
Lobster Bisque
Almond Crusted Sea Scallops
Char-grilled Filet Mignon
Address: The Flour Mill, 621 W Mallon Ave, Spokane, WA 99201
For over 40 years, this Spokane landmark with traditional American cuisine has served quality steaks, fresh and innovative seafood, and more to enjoy. Overlooking the city skyline and the Spokane River, Clinkerdagger is a great spot to go for a date night or just a fun night out with great views and even better food.
The restaurant was voted "Best Restaurant to Get Your Parents to Take You To" by Best of Gonzaga 2017, and voted OpenTable's "100 Most Scenic Restaurants in America" in 2016 by OpenTable diners. Clinkerdagger even offers private dining for special events.
With 4 stars and almost 600 reviews on Yelp, customers note that this establishment has great service and a superb atmosphere to go along with the delicious food. One review even stated that dining at Clinkerdagger was in their top 3 experiences they had in Spokane.
Located on West Mallon Avenue, the deck at the restaurant provides great water views and is near some hotels for those who are just visiting Spokane. The Clinkerdagger is open for lunch and dinner.
Frank's Diner
Popular Dishes at Frank's Diner
Chicken Fried Steak & Eggs
Classic Eggs Benedict
Diner Style Turkey Pot Pie
Chicken Fried Steak
Address: Frank's Diner, 1516 West 2nd Avenue, Spokane, WA 99201 and Frank's Diner, 10929 N Newport Hwy, Spokane, WA 99201
With two locations to choose from, either in the Northside or downtown, visitors can enjoy the food of Frank's Diner no matter what part of town they're in. This unique restaurant offers dining inside presidential railcars, making it a fun and different kind of place to visit.
The original location of Frank's Diner in downtown Spokane is in Car NO. 1787, which served as a private car for the president of the Northern Pacific Railroad until it was converted into a diner car in 1931. Named after its originator, Frank Knight, his brother and sometimes business partner, Jack Knight, first started the now historic Frank's Diner.
Frank's Diner has won best breakfast and best diner for decades by many local, regional, national, and even international publications and is a definite favorite amongst locals and visitors alike. The restaurant notes that it cooks up 30,000 jumbo eggs and 2.5 tons of fresh hash browns per month. Open from 6 a.m. to 9 p.m. daily, patrons can enjoy breakfast, lunch, dinner, or anything in between.
Churchill's Steakhouse
Popular Dishes at Churchill's Steakhouse
Filet Mignon
Garlic Mashed Potatoes
New York Strip Steak
Chocolate Sack
Address: Churchill's Steakhouse, 165 S Post St, Spokane, WA 99201
Churchill's Steakhouse is a more elegant restaurant located in Spokane, offering a Chicago-style atmosphere and experience in the Northwest. The restaurant has won an Award of Excellence in Wine Selection from Wine Spectator Magazine and has also been recognized by DiRONA (Distinguished Restaurants of North America) in 2017, 2018, and 2019. Priding itself as the Northwest's premier steak house, Churchill's notes that it offers nothing but the best, with 100 percent USDA Prime beef, fresh seafood, crafted cocktails, and homemade desserts.
This elegant steakhouse and lounge opened in 2007, yet has quickly grown as one of the most notable steakhouses in America's west. The proprietor of Churchill's Steakhouse, Bill Alles, comes from a long line of meat tradesmen and incorporates many of the techniques passed down to him into the Churchill's way.
Diners can enjoy their meal with a show in the restaurant's live piano lounge on Sundays from 5 p.m. to 9 p.m., Mondays and Thursdays from 6 p.m. to 10 p.m., and Fridays and Saturdays from 7 p.m. to 11 p.m. The restaurant itself is open Sundays through Wednesdays from 3:30 p.m. to 9 p.m., Thursdays from 3:30 p.m. to 9:30 p.m., and on Fridays and Saturdays from 3:30 p.m. to 10 p.m.
Wild Sage Bistro
Popular Dishes at Wild Sage Bistro
Tenderloin Fondue
Heirloom Beet Salad
Yukon Taquitos
Soon To Be Famous Coconut Cream Layer Cake
Address: Wild Sage Bistro, 916 W 2nd Ave, Spokane, WA 99201
In central downtown Spokane is Wild Sage Bistro, a place for a comfortable American fine dining experience. Wild Sage Bistro highlights its high-quality meats, seasonally inspired food, and fresh seafood on its menu. Managing partners Tom Sciortino, David Wells, and consulting partner Gare Traeger have owned and operated Wild Sage Bistro since 2006, drawing on their extensive restaurant experience in California, Minnesota, Hawaii, Seattle, and Spokane.
With three dining areas in the restaurant and earth-colored tones for a calming, creative, and comforting space, diners can enjoy eating at Wild Sage Bistro for a romantic meal, or even for a happy-hour gathering with friends. Yelp has even named this restaurant one of "The 100 Best Restaurants Worth Splurging on This Year." Wild Sage Bistro has also won the Travelers' Choice Award 2020, as well as multiple past awards. Those truly after a fine dining experience should add Wild Sage Bistro to their list. The restaurant is open on Sundays from 4 p.m. to 8 p.m., Mondays through Thursdays from 4 p.m. to 9 p.m., and Fridays and Saturdays from 4 p.m. to 10 p.m.
Eat Your Way Through Spokane
Those who already live in Spokane hopefully discovered a new restaurant from this list to enjoy. Those who plan to visit or even move to this city should try out the food and drinks available at these Spokane staples. Depending on the neighborhood someone finds themselves in, as well as what type of food they are in the mood for, people are sure to have a great meal at one of these famous restaurants in Spokane.
If you're looking for a Spokane home near great food options, contact Unity Home Group at eXp Realty with Real Estate Spokane at (509) 808-4030 to get in touch with local real estate agents who can help you find the perfect location in Spokane to call home.