Spokane Driving & Commute Times - Things to Know [2021 Guide]
Posted by Ryan Tollefsen on Monday, June 21, 2021 at 9:05 AM
By Ryan Tollefsen / June 21, 2021
Comment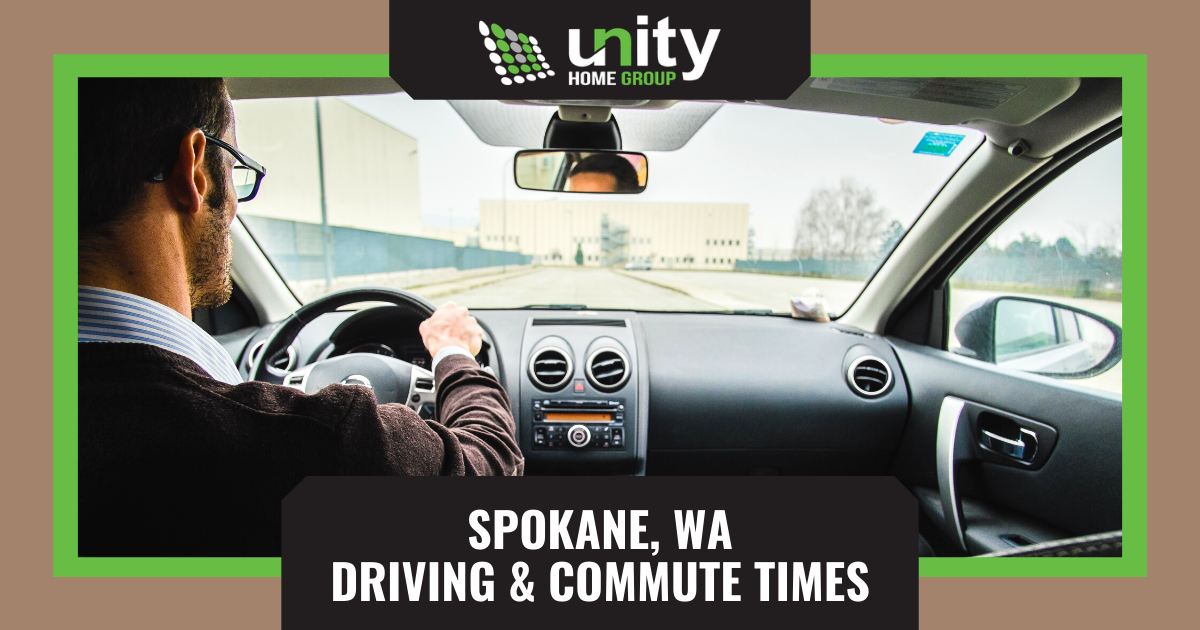 One of the largest cities in the northwestern U.S., Spokane, Washington, has an estimated 2019 population of just over 222,000. That's a growth of more than 6% since the 2010 Census. This growth is happening for several reasons, including the beautiful landscape and lower cost of living. Every year, more than a thousand new residents choose to call Spokane home. Many of them move into Spokane's townhomes and condos downtown, while others opt for Spokane's new construction homes farther out.
The population of the metro area of Spokane is estimated at 573,500, making it a fairly large region. However, the average commute time for residents is only 20.1, which is more than six minutes shorter than the national average. If that sounds appealing, read on to learn what to know about driving in Spokane, WA.
Get to Know Spokane's Major Roads
One of the first steps to traveling around a new community is getting to know the major roads and highways. Even in the age of automated navigation devices and turn-by-turn directions, it's best to have a fundamental understanding of the city layout. In Spokane, there are several interstates and roads that new residents will need to recognize.
I-90 is the major interstate road connecting Spokane to the rest of the nation. Traveling west will eventually connect with Seattle, Washington, and going east will reach Missoula and Butte in Montana. Within the community itself, I-90 cuts an east-to-west path through the center. In the eastern part of the city, I-90 is mirrored by the parallel path of State Route 290. Otherwise known as Trent Avenue, it extends east of the city through Newman Lake and East Greenacres.
State Route 291 provides a path through the northwestern edge of the city. It begins near the Northtown area and spikes up through Riverside State Park. I-90 is the only east-to-west route completely through the community.
There are two major north-to-south routes through the city, but neither of them completely bisect Spokane. U.S. 195 connects to I-90 west of downtown and tracks south past High Drive Bluff Park. Also known as Sunset Highway, Browne St, and Division St, U.S. 2 joins I-90 near downtown but juts up through the city center.
What to Expect During Rush Hour in Spokane
The average commute time in Spokane is only 20.1 minutes, which is much shorter than the nationwide average of 26.4 minutes. More than 76% of residents drive their cars to work alone, while 9.5% carpool. Only 3.9% use some form of mass transit. These numbers are very close to the national averages, with only mass transit deviating by more than a percentage point.
As for the morning commute in Spokane, working residents reported the largest segment of employees began driving between 7 and 8 a.m. However, the number of drivers continues to increase steadily between 5 and 8 a.m. Drivers wishing to avoid the heaviest traffic should consider leaving the house before 6:30 a.m. or after 8:30 a.m. Regardless of the leaving time in the morning, however, most residents will enjoy a shorter-than-average commute. The vast majority of residents reported driving times less than 24 minutes.
Parking in Spokane
The downtown Spokane area has more than 40 area bus routes for those who need an alternative to driving. The downtown area boasts more than 20,400 parking locations off the streets for those with cars, with an average occupancy of about 56%. Most people will be able to find parking on most days. However, what is not guaranteed is finding parking near the desired location. Make sure to leave early under circumstances where a long walk would be required.
As for the related costs, the on-street parking is controlled by the city using meters. Meter parking is paid on Monday through Saturday from 8 a.m.–7 p.m. Most off-street parking comes in the form of privately owned surface lots and covered garages. Prices within these options can depend on the amount of traffic, especially during special events. Generally speaking, people can expect to pay about $1.20 per hour for meters and up to $10 per day for lots or garages.
Other Helpful Things to Know About Driving in Spokane
A final important note about driving in Spokane pertains to winter weather for new residents arriving from warmer climates. It's important to heed that Spokane averages about 44 inches of snow a year, which is 16 inches more than the average U.S. community. Additionally, average low temperatures remain under freezing for five months out of each year. From November through March, drivers can expect snow and ice regularly.
Although driving in winter conditions can be perilous, there are a few important tips. One of the most important is to make sure to install the proper snow tires before winter weather. Snow tires are designed to dramatically improve traction, which can save lives in the winter. Both snow and ice can reduce braking power, so be sure to drive slowly and increase your distance between other vehicles.
Considering Living in Spokane?
Spokane is a great place to live. The overall cost of living for the community is about 8% more affordable than the average U.S. city. The median home cost is only about $218,000, which is less than the U.S. average of $231,000 and makes for some excellent affordable neighborhoods in Spokane. But leaving aside the number-crunching, take a look around when you visit. Spokane isn't called the Lilac City for nothing; the Washington landscape is beautiful. Couple that with Spokane's parks, colorful festivals, water recreation opportunities, and even golf courses, and it becomes clear why so many new residents arrive each year!
If you're looking to make your home in Spokane, contact Unity Home Group of eXp Realty with Real Estate Spokane at (509) 808-4030 to get in touch with local Spokane real estate agents and discover your Spokane dream home today.