Make the Most of the Falls This Spring
Posted by Ryan Tollefsen on Thursday, April 14, 2016 at 8:22 AM
By Ryan Tollefsen / April 14, 2016
Comment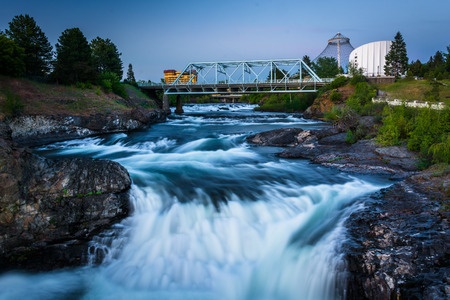 We may be a tad biased, but we feel that there's nothing like Spokane in spring. As the season kicks into gear, the city comes alive as well. And, there's no better start to the warmer months than a day at the Spokane Falls. The area may attract tourists, but there's no reason for locals to miss out on the fun.
The best place to start may just be Huntington Park. Although the 2014 refurbishment may have you thinking that the park is a new addition to the city, it's been around for over three decades. Of course, the renovations put the "old" hidden park to shame. For anyone physically able, the stairs are a must do as they'll bring you thunderously close to the second-largest urban waterfall in the country.
Of course, a day at the falls wouldn't be complete without a stroll along Centennial Trail. The 37 miles of paved walkways and bike paths offer hundreds of picturesque photo opportunities and a few delicious places to stop as well. (Pop into Anthony's for fresh seafood and a gorgeous view to go with your meal!)
And, if you really want a memorable experience, why not book a SkyRide? The facility is technically an "all-weather" attraction but it's best in the springtime when the water rushes with gusto underneath the cable cars. Cars carrying six passengers drop over the Huntington Park area, under Monroe Street Bridge, and into Riverfront Park.
So long as you're at Riverfront Park, it makes sense to round off the day with a visit to the IMAX Theater or to walk the grounds with the first ice cream of the season in hand. Discount season passes are available for Riverfront Park until May 30, 2016 and a day at the falls might just be the thing that convinces you to indulge this year. And why not? The Spokane Falls is beautiful all year; even if it feels more alive in the spring.