Most Affordable Neighborhoods in Spokane: Spokane, WA Affordable Living Guide
Posted by Ryan Tollefsen on Friday, February 19, 2021 at 12:39 PM
By Ryan Tollefsen / February 19, 2021
Comment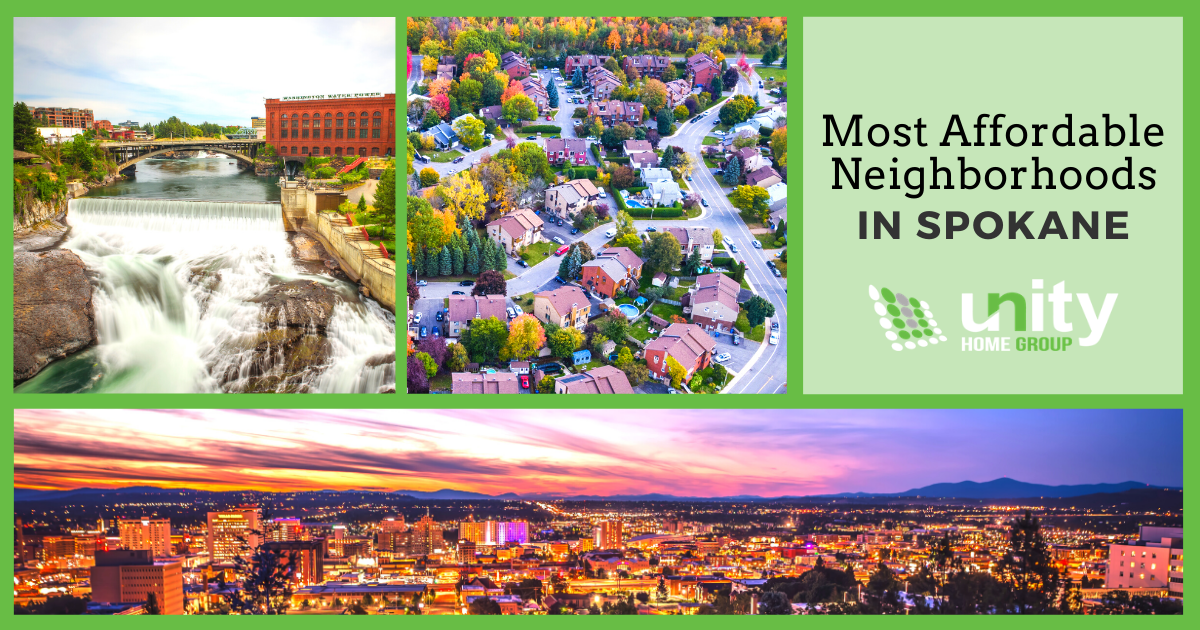 Most Affordable Neighborhoods in Spokane: Spokane, WA Affordable Living Guide
Spokane serves as the county seat of Spokane County, Washington, and is considered to be the cultural and economic center of the Inland Northwest region. It is located along the Spokane River in the eastern part of the state. About 227,579 residents live in Spokane, making it Washington's second-largest city after Seattle.
Spokane's neighborhoods feature a wide variety of architecture, from Victorian-style homes typical of the South Hill neighborhood to contemporary luxury properties found on the city's north side. Spokane is home to 18 National Register Historical Districts. Residents of this city can enjoy the city's system of 87 parks, covering 4,100 acres.
Those interested in moving to Spokane should consider the city's most affordable neighborhoods, including the following five areas.
South Perry District
South Perry District Amenities
Park
Community garden
Restaurants nearby
Shopping nearby
Farmer's market
As one of the first areas of the city to be developed, the South Perry District is one of Spokane's oldest neighborhoods, dating back to the late 1800s. Residents of the South Perry District enjoy convenient access to the city's downtown area, as well as the university campus and major healthcare providers. Additionally, the neighborhood provides easy access to Interstate Highway 90.
Despite its location mere minutes from downtown, the South Perry District maintains its own distinct feeling of community. Nowhere is this more evident than at the city's historic, pedestrian-friendly Perry Street, particularly near the Grant Park Area. The majority of the neighborhood's residences are only a brief walk away from accessing the neighborhood's cafés, restaurants, bars, and other businesses.
With a farmer's market, a community garden, and a beautiful park, the South Perry District is a great place to live.
South Perry District Hotspots
Bemiss
Bemiss Amenities
Parks
Restaurants nearby
Shopping nearby
Playground
Athletic field
The historic neighborhood of Bemiss is named for Spokane's first superintendent of the city's schools, David Bemiss. He is credited in large part for establishing the city's public education system.
East Wellesley Avenue forms the northern border of the Bemiss neighborhood. The western border runs along North Perry Street as far as East Dalton Avenue. There, it heads east as far as North Napa Street, where it heads south again to East Illinois Avenue. It then follows North Crestline Street south to the river, which forms its southernmost border before jogging to the north. The boundary then reconnects with East Illinois Avenue to finish the southern perimeter until it gets to North Market Street, which forms its eastern border.
Bemiss is home to Hays Park, a community park featuring a playground, open green space, and baseball diamond, as well as the smaller Courtland Park, adjacent to the school, which owns most of it. The neighborhood also features the larger Andrew Rypien Field, an athletic field that features soccer fields, basketball hoops, a playground, and expansive green space. Additionally, there is a walking path around its perimeter.
Manito Cannon Hill
Manito Cannon Hill Amenities
Parks
Ponds
Walking paths
Botanical gardens
Shopping nearby
Restaurants nearby
The availability of the streetcar, which was used in Spokane from 1888 to 1936, served as a catalyst for the development and early growth of the Manito Cannon Hill neighborhood, part of Spokane's South Hill area. In its earliest years, the neighborhood was home to several streetcar lines, providing transportation that meant easy accessibility to the nearby downtown business district, as well as other neighborhoods.
Manito Park was dedicated in 1904. Originally host to a zoo, the popular park has seen many improvements over the years, including various botanical gardens, greenhouses, shelters, playgrounds, and other amenities. The park and adjacent Manito Boulevard are on the National Register of Historic Places.
The neighborhood is also home to Cannon Hill Park, developed in 1907 with two pergolas, a shelter, and a children's wading pool. Today, the well-established Manito Park neighborhood is known for its mature trees, annual community events, and pedestrian-friendly streets.
Manito Cannon Hill Hotspots
North Hill
North Hill Amenities
Shopping
Restaurants
Parks
The North Hill neighborhood traces its roots back to the 1940s, when the majority of its 5,000 homes were constructed. About 11,000 residents live in the North Hill neighborhood today.
The North Hill neighborhood boundaries run along Francis Avenue to the north, Ash Street to the west, Cora and Courtland Avenues to the south, and Division Street to the east.
North Hill is known as the home to the popular Garland District, a pedestrian-friendly area with an old-time "main street" appeal and artsy flair. Established as far back as the early 1900s, the Garland District is known for its art deco designs, boutique shopping, class movie theaters, and eateries. The area is known in particular for its unique restaurants and retail outlets.
Known as a walkable neighborhood, North Hill is also home to three community parks: Clark, Franklin, and Ruth.
Logan
Logan Amenities
Parks
Walking trails
River
Water recreation
The Logan neighborhood got its start as a community development steering committee in 1976. The community derives its name from the neighborhood elementary school of the same name.
Logan boasts two historic districts. The national historic residential district runs along Mission Avenue, east of Hamilton. The national historic warehouse district is located on Desmet Avenue, between Pearl and Ruby Streets.
Residents of Logan enjoy a central location within the city. The community is known for its heavy canopy of mature trees, its broad streets, and four community parks. In addition to two elementary schools and a high school, the Logan neighborhood is home to a university as well as a law school.
Logan residents can enjoy water recreation available from the Spokane River, which forms the neighborhood's southern border. Also popular with outdoor recreation enthusiasts is the Centennial Trail, which winds its way through the neighborhood.
Explore Spokane's Most Affordable Neighborhoods
Spokane's economy has long been dominated by natural resources, including mining, logging, and agricultural industries. Many of the city's neighborhoods came about due to proximity to railways, while others sprung up in order to house workers. Its many neighborhoods are representative of a patchwork of architectural styles, each offering a distinct identity and testament to the city's history.
Residents of Spokane's neighborhoods have access to a number of outdoor recreational opportunities, including the city's numerous multi-use trails. In the winter, residents have easy access to nearby ski resorts. Downhill and cross-country skiing, as well as snowshoeing, snowmobiling, and dog sledding, are among popular wintertime activities. If you're looking to make your home in one of Spokane's many affordable neighborhoods, contact Unity Home Group at eXp Realty with Real Estate Spokane at (509) 808-4030 to get in touch with a local real estate agent who can help you find a Spokane home that fits both your budget and your wishlist.