Most Expensive Neighborhoods in Spokane: Spokane, WA Expensive Living Guide
Posted by Ryan Tollefsen on Thursday, January 14, 2021 at 7:14 AM
By Ryan Tollefsen / January 14, 2021
Comment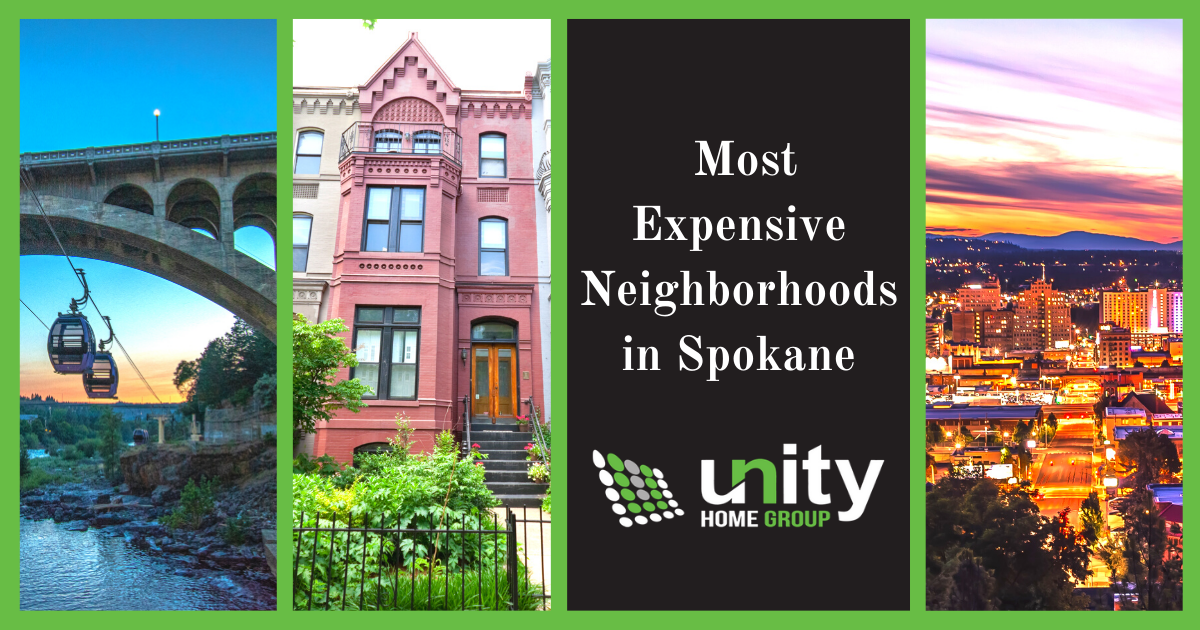 Spokane, Washington, also named the "Lilac City," is a well-known area in the state of Washington. This Pacific Northwest city is located along the Spokane River and near the Selkirk Mountains and Rocky Mountain foothills. The Spokane metropolitan area had an estimated population of 573,493 during the 2018 census.
Though Spokane may not be the most expensive place in the United States to live in, some expensive neighborhoods can be found throughout the city. The eclectic neighborhoods in Spokane may persuade people to want to visit and move here, as there may be a neighborhood and style of home that works for many people and personalities. Whether it is living close to a park, living in a neighborhood high above others with a great view, or being near a golf course, there is a neighborhood for everyone in Spokane.
Those who have a higher budget for their cost of living may be interested in purchasing a home in one of these most expensive neighborhoods in Spokane.
The Ridge at Hangman
The Ridge at Hangman Amenities
Walking trails
Golf cart and golf course access
Natural gas
Extensive water system for fire safety
Gated community
The Ridge at Hangman is an almost 1,000-acre new construction gated community and planned unit development that overlooks the Hangman Valley Golf Course. Home sites are anywhere from one to 10 acres and are conveniently located close to downtown Spokane. The Ridge at Hangman also features miles of nature trails for walking and wildlife viewing. There are approximately 240 homes in The Ridge at Hangman, and the area offers easy access to golf carts for the golf course.
The Ridge at Hangman Hotspots
The Ridge at Hangman Shopping
Target
South Hill Ace Hardware
Trader Joe's
The Ridge at Hangman Nightlife
The Ridge at Hangman Restaurants
Eagle Ridge
Eagle Ridge Amenities
Forest Ridge Park
Paved walking trails
Community events
160 acres of open space
Those who would like to live close to the city but feel like they live more in the country should consider the neighborhood of Eagle Ridge. This community was developed in 1996 and has many fun perks, such as an annual Easter egg hunt, regular movies in the park, and a monthly book club for residents, just to name a few. Residents can spend a lot of time outdoors, as there are convenient walking trails and 160 acres of open space, along with a local park. The Whispering Pines Park even features an amphitheater, a rock climbing wall, a swing set and children's playground, Frisbee golf, and much more.
All in all, Eagle Ridge features five miles of walking trails, 11 annual events, and seven parks in its community. This neighborhood may be just what outdoor lovers are hoping to find.
Eagle Ridge Hotspots
Five Mile Prairie
Five Mile Prairie Amenities
Sky Prairie Park
Holmberg Conservation Area
Austin Ravine Conservation Area
Five Mile Prairie is a neighborhood in Spokane that includes some lovely parks and a sense of community. The neighborhood holds quarterly neighborhood council meetings. This area has hosted a holiday lighting decoration contest, food drives, a tire collection event, a cleanup the park event, and many more activities. This small area aims to make its residents feel included and have a sense of community.
Five Mile Prairie Hotspots
High Drive
High Drive Amenities
Comstock Park
High Drive Bluff Park
Westwood Natural Area
Stimpi Ridge Disc Golf
Unity Spiritual Center
The High Drive neighborhood is made up of large single-family residences. With its picturesque views, this neighborhood earned its name for the tall area that it is located in. The 350-foot bluff that backs up to this neighborhood provides its "high" height and beautiful views.
Though there aren't many sidewalks in High Drive, there are bike lanes to use. Restaurants, parks, bars, and more are within a short biking distance from High Drive, and downtown Spokane is less than a 10-minute drive. The streets are lined with many diverse trees, along with elegant, luxurious houses.
Manito Country Club
Manito Country Club Amenities
Golf-lovers have more than just one neighborhood to consider when it comes to living in an expensive neighborhood in Spokane. Close to a golf course, the Manito Country Club neighborhood is located where South Hill starts to turn into Southgate. The pricey homes overlook the bluff and have amazing curb appeal. This area offers many homes in gated communities, with various options to choose from. Many homes were built from the late 1970s to the mid-1980s.
One unique characteristic of this neighborhood is their local gas station, Rocket Market, which is much more than a gas station: it is a place where one can both fill up their gas tank and buy gourmet cheese, fancy meats, flowers, and more.
Manito Country Club Hotspots
Comstock
Comstock Amenities
Comstock Park
Hart Field
Post office
The neighborhood of Comstock borders both High Drive and Manito. This area has more distinct and unique architecture for its homes, with many single-level and split-level ranch-type residences. There are not many sidewalks in the area, but the neighborhood has many cul-de-sacs. Though the streets aren't described as "tree-lined," there is a lot of greenery in Comstock thanks to its local park. Comstock Park opened in 1938 and features fields, a swimming pool, and sport facilities.
Discover the Most Expensive Spokane Neighborhoods
It is clear to see the similarities and differences of Spokane's most expensive neighborhoods listed above. When choosing where to visit or live in the Spokane area, the various amenities, restaurants, types of homes, and more are important for buyers to take into consideration. Some of these neighborhoods are so close as to border one another, yet each still has its distinct qualities. If you've got your eye on one of Spokane's upscale neighborhoods, contact Unity Home Group at eXp Realty with Real Estate Spokane at (509) 808-4030 to get in touch with a Spokane real estate agent and find your Spokane dream home today.