Most Walkable Neighborhoods in Spokane, WA
Posted by Ryan Tollefsen on Monday, February 22, 2021 at 8:23 AM
By Ryan Tollefsen / February 22, 2021
Comment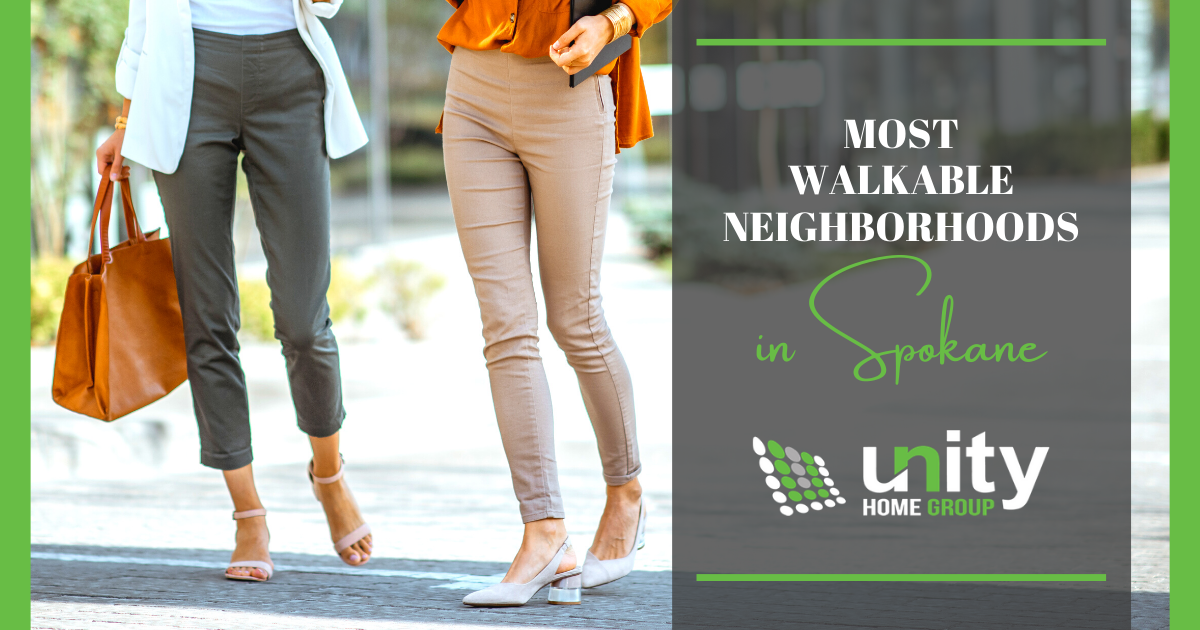 Spokane, Washington, serves as home to 227,579 residents, making it Washington's second-largest city, trailing only Seattle. Located along the Spokane River in the eastern part of the state, the city serves as the county seat of Spokane County.
Those seeking outdoor recreation will welcome Spokane's system of 87 parks, covering 4,100 acres. The city is widely recognized as the economic and cultural heart of the Inland Northwest region, with thriving business, entertainment, and arts sectors. It is home to 18 National Register of Historical Districts. Neighborhoods showcase the city's history through architecture that ranges from Victorian-style in the South Hill district to modern luxury homes on the city's north side.
Those planning a move to Spokane might be interested in the city's most walkable neighborhoods, including the following six areas.
Riverside
Riverside Amenities
Trails
Parks
Cinema
River
Interstate access
Riverside is an established neighborhood in the heart of Spokane's downtown. It is bordered by Interstate Highway 90 to the south, North Division Street to the east, and West Boone Avenue to the north. The western border follows North Monroe Street to West Riverside Avenue. It then follows South Walnut Street to the railway line, which it follows southwest until it connects again with Interstate 90.
Riverside is home to Riverfront Park, site of the 1974 World's Fair. The park features a carousel, sculptures, and a cable ride offering scenic views of Spokane Falls.
Residents and visitors can also enjoy walkable access to entertainment and shopping, including River Park Square, an upscale mall featuring local shops, chain retailers, and a department store, along with a 20-screen cinema.
The neighborhood offers potential residents downtown condo living, including converted warehouse space. Retail, restaurants, recreation, and fitness centers are all easily accessible, while a year-round, climate-controlled walkway connects several downtown sites.
Riverfront Park and the Centennial Trail provide outdoor recreation with green space and multi-use trails.
Emerald Garfield
Emerald Garfield Amenities
Proximity to downtown
Historic homes
Parks
The established community of Emerald Garfield has been a part of the fabric of Spokane for well over a century. Emerald Garfield is known for its older homes and mature landscaping. Several homes are listed on the National Historic Registry.
The neighborhood is anchored by the Monroe Street corridor, which bisects it into east and west halves. Pedestrian-friendly Monroe Street has long been the home to numerous antique and specialty boutiques, interspersed with craft breweries and specialty coffee shops.
The neighborhood was established with the development of a fairgrounds and racetrack. Residents are drawn to the neighborhood's history while also enjoying modern amenities. The neighborhood is recognized as walkable, with the Monroe Street shops and eateries easily accessible from residential districts.
Emerald Garfield residents enjoy two community parks. The larger among them is Corbin Park, a former racetrack with a walking path around its perimeter.
Emerald Garfield Hotspots
Cliff-Cannon
Cliff-Cannon Amenities
Parks
Interstate access
Healthcare providers nearby
Community garden and events
Historic district
Cliff-Cannon is Spokane's second-oldest neighborhood. It is known as the city's hospital and medical district, yet also features historic residential properties, rich in architectural significance.
This established urban neighborhood is located at the west end of the South Hill district. It is bordered by Interstate Highway 90 to the north, East Rockwood Boulevard to the east, and West 13th Avenue to the south. Its border runs just inside the railway to the west before looping back northward on South Cedar Street, to connect with 13th Avenue.
The neighborhood features a mix of residential and commercial districts, with services, retail, and dining options within walking distance of residential areas. The neighborhood's sidewalks were designed to form a walkable urban street grid.
Four parks provide recreational opportunities for Cliff-Cannon's residents, including Cowley Park, Cliff Park, Pioneer Park, and Polly Judd Park. The neighborhood also features a community garden. About 1,000 people attend the neighborhood's annual block party, with live music, food, and local vendors.
Logan
Logan Amenities
Parks
Walking trails
River
Located close to downtown Spokane, Logan is one of the city's oldest residential communities. The neighborhood was developed between 1884 and 1890, as an early suburb of downtown Spokane. Its wide streets, canopy of mature trees, and neatly manicured boulevards make it a favorite of pedestrians.
Logan is home to two historic districts. The national historic residential district is situated along Mission Avenue, east of Hamilton. The national historic warehouse district is located on Desmet Avenue, between Pearl and Ruby Streets.
Residents have access to four community parks and can also enjoy water recreation on the Spokane River, which forms the neighborhood's southern border. In addition to the river, residents of the neighborhood can enjoy the meandering Centennial Trail, which winds through the neighborhood.
Along with its outdoor recreation pursuits, the neighborhood offers residents a thriving business district along Hamilton Street. Logan is also home to Gonzaga University and a law school.
West Central
West Central Amenities
River
Parks
Conservation area
West Central is located just northwest of downtown Spokane. It spans the distance from the Spokane County Courthouse west to the point where the river bends north.
West Central got its start in the late 1800s and early 1900s. Like many of the area's communities, it was the Northern Pacific and Union Pacific Railroads that spurred growth in the early days.
By the 1930s, the neighborhood was considered to be established, attracting new residents from other areas of the city. In 2010, a new mixed-use development along the river, Kendall Yards, helped to revitalize the neighborhood. Shops and restaurants are surrounded by single-family homes and apartments, making for a walkable community. The development has attracted new businesses to the neighborhood and has spurred further development.
Residents can enjoy water recreation along the Spokane River, which follows the neighborhood's boundaries along its south, west, and north sides. West Central has its own parks, as well as playgrounds and conservation areas.
Northtown
Northtown Amenities
Parks
Cinema
Athletic fields
Splash pad
Northtown is located on Spokane's north side. Known for its sports complex and shopping centers, the community has much to offer its residents.
At the heart of the neighborhood is Franklin Park, a 43-acre recreation area with athletic fields, a horseshoe pit, playground, and splash pad.
Not far from Franklin Park is one of the area's great retail draws, the Northtown Square. Its popularity likely stems from its balance of national-chain retail and unique, local boutiques. Those looking for even more retail therapy will enjoy the traditional Northtown Mall. Besides giving the neighborhood its name, the mall features large, national retailers, great dining options, local shops, and a multiplex cinema.
Northtown is known for its convenient grid design. Many residences are within walking distance of retail shops, restaurants, and more. The neighborhood also offers nearby healthcare, with Providence Holy Family Hospital located adjacent to the neighborhood.
Discover Spokane's Most Walkable Neighborhoods
Spokane is one of Washington's largest cities, offering residents plenty of options for entertainment, shopping, dining, and enjoying the arts.
A number of Spokane's neighborhoods can trace their beginnings to railways, owing to Spokane's earliest economic growth through the agriculture and mining sectors. Many of these neighborhoods sprang up as self-sufficient communities, blending residential and business districts. Today, there are still neighborhoods where dining, services, and shopping are a mere walk from residential areas.
Spokane's residents can also enjoy many outdoor recreational activities, such as walking and biking on its many multi-use trails, including those converted from rail to trail use. Winter brings opportunities for cross-country, skiing, snowmobiling, and snowshoeing. With a reasonable cost of living and many things to do in the area, new residents will be pleased to call one of Spokane's most walkable neighborhoods their new home. Contact Unity Home Group at eXp Realty with Real Estate Spokane at (509) 808-4030 today to get in touch with a Spokane real estate agent about homes available in these neighborhoods.