Selling Your Home When You Own Dogs
Posted by Ryan Tollefsen on Monday, January 30, 2017 at 5:12 PM
By Ryan Tollefsen / January 30, 2017
Comment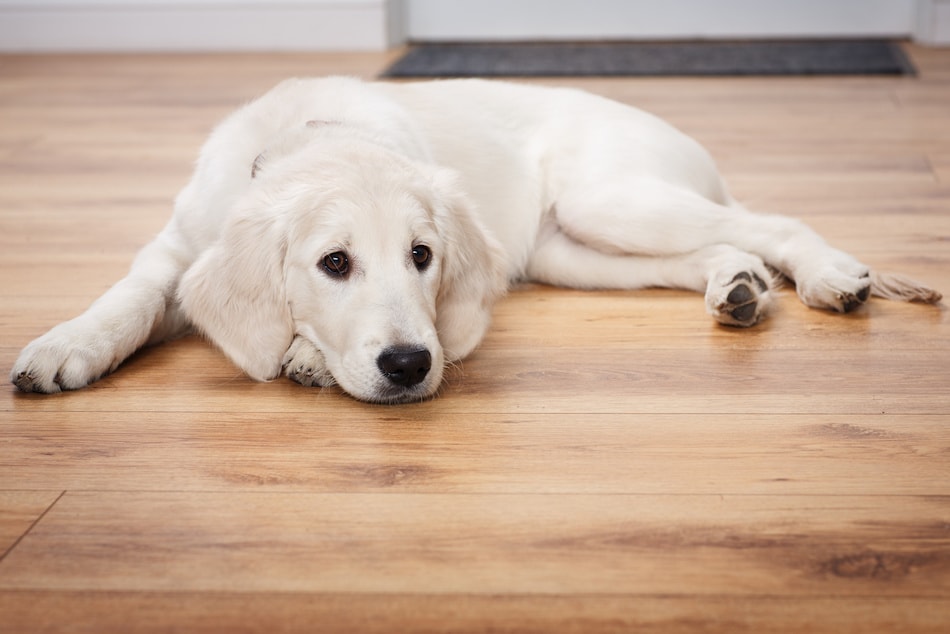 Selling a home when you own dogs can be a challenge. Odors, scratches, pet hair and other reminders of animals can lead to lower offers and can make selling your home take longer if you don't take action.
As a homeowner trying to sell a property, the best thing you can do is keep your dogs separated from the selling process by removing visible evidence of their existence. Here are a few tips to follow:
Repair Pet Damage
Dogs can do a lot of damage to your property over time. Holes and stains in the carpet, chew marks on the walls, scratches on hardwood and other problems with your home's structure can build up over time.
Make a list of all the damage that you can find in your home and make what repairs you can. As you're looking for damage, examine your furnishings as well as the home's structure. Your furniture may not be included in the price of the house, however, getting rid of scratches and chew marks is still an important part of staging your home.
Fix the Yard
Some dogs like to tear up the yard, so your lawn could need some fixing as well. Dead grass, bare patches on the lawn, holes in the dirt and damage to fence will all need to be repaired. Growing grass can take a little time, so it's best to do this several weeks before putting your home up for sale.
Dig out any dead patches and lay new sod or spread new grass seed as soon as possible. Keep the grass wet while it takes hold and begins to grow. If your pet is potty trained to use these areas on your lawn, you may need to re-train your pet to use a more discrete location or the new grass may not survive.
Remove Odors
Carpets and upholstery have a way of absorbing pet odors. This is especially true in locations where your pet likes to sleep or lounge with the family. These odors can give your house an unclean smell that can be unappealing to home buyers.
Use carpet and upholstery deodorizers to remove old odors and freshen your home. Areas where your pet sleeps or lounges may need to be shampooed before deodorizing. Use a carpet rake to remove hidden pet hair in your carpeting. If you're selling your home when the weather is warm, open your windows as frequently as possible to let in fresh air.
Change the Filters on Your HVAC System
Your home's HVAC filter cleans the air that flows through the ducts. Many homeowners fail to replace the filter on a regular basis, which leads your home's HVAC system to circulate dirty air throughout your home. To cut back on pet hair and pet dander, change the filter in your HVAC system.
To do this, turn off your HVAC system through the thermostat. The filter will most likely be located in a slot between the blower and the return air duct. Remove the old filter and use it to buy a new identical filter at the hardware store. Once you've installed the new filter, you can turn on the HVAC system again.
Put Away Pet Accessories
Dog beds, pet toys, leashes and other pet accessories can make your home seem cluttered and small. Put away your pet accessories during showings. If you own items that can't easily be hidden, like a large dog crate, clean it thoroughly and then cover it with an attractive throw blanket. Keep pet items that aren't hidden in discrete locations, like in a corner of an unimportant room.
Clean Up Around Your Pet's Dish
Dogs aren't always tidy eaters or drinkers. Put your dog's food dish in a part of the house that is not obvious or visible to visitors, then make a point of cleaning up around your pet's food dish and water bowl whenever there is a showing.
Vacuum Before Showings
Dog hair can trigger allergy symptoms in buyers with sensitivities. To make visiting your home a more pleasant experience, vacuum and dust thoroughly before every showing. Remember to vacuum your home's upholstery as well as the floors.
Keep Them Out of the House During Showings
Not all buyers will enjoy visiting a home with dogs inside, and not all dogs will welcome buyers onto their property. To avoid problems, send your dogs to a friend or neighbor's house for showings. If you have no one to watch your dogs, take them for a walk around the neighborhood while buyers are on your property.
Speak with Your Agent
For more helpful suggestions, talk to your real estate agent. He or she can make more suggestions to ensure that your home will be attractive to buyers, and that your dogs will not interfere with the sale of your home.