Spokane Economy: Top Industries, Biggest Employers, & Business Opportunities
Posted by Ryan Tollefsen on Friday, December 18, 2020 at 8:59 AM
By Ryan Tollefsen / December 18, 2020
Comment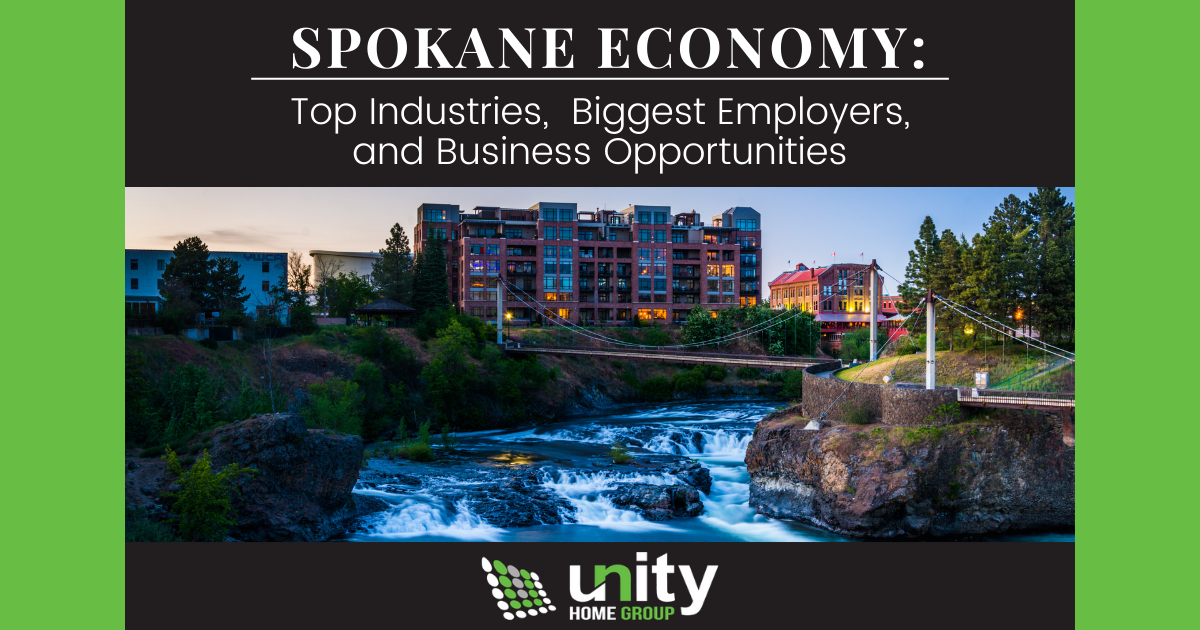 Spokane's population of 223,266 makes it the state's second-largest city, trailing only Seattle. The city has grown about 6.9% over the past decade. It serves as the economic and cultural center of the greater Spokane metro area and the Inland Northwest, which includes eastern Washington and northern Idaho.
Spokane's metro area serves as a critical hub for manufacturing, commercial, and transportation activity in the region, as well as serving as the epicenter for medical services, shopping, and entertainment. Read on for a more detailed look at Spokane's economy.
Spokane Industries
The leading industries for non-farm employment in Spokane are education, health services, trade, transportation, utilities, and government. Other prominent industries in Spokane include mining, logging, construction, manufacturing, and professional and business services. The military also plays an important role, with all four branches of the U.S. armed forces represented in Spokane County, including Fairchild Air Force Base.
Agriculture continues to be a major player in the region's economy, with Spokane County boasting over 2,500 farms. Food processing alone generates over $566 million in revenue in Spokane. It's estimated that production agriculture and all related activities produce $1 billion in products, with an overall economic impact of roughly $5 billion for Spokane and the surrounding counties. The area's agricultural sector employs an estimated 32,000 people.
About 18,000 people are employed in manufacturing in the greater Spokane area. Leading segments include wood processing, food processing, printing and publishing, electrical and computing equipment, metal refining and fabrication, and transportation equipment. Manufacturing is bolstered by the city's inexpensive power, thanks to the Bonneville Dam, as well as access to rail and highway systems.
The combined transportation, trade, and utilities industries employ an estimated 47,000 people in the area. Transportation and distribution play a pivotal role in the Spokane economy, with the city serving as a regional distribution center for the city's businesses, including an Amazon fulfillment center that began operations in 2020.
The entire Inland Northwest region—covering approximately 80,000 square miles—looks to Spokane as the hub for service industries, as well as wholesale and retail trade. Shopping malls are regional destinations for the multitude of smaller communities in the region, as are big box stores.
Tourism is a significant emerging industry for Spokane, a city that has long served as a convention destination. A growing number of tourists use the city as a launching pad for taking advantage of the area's many outdoor recreational activities, from river rafting to downhill skiing.
Top Industries in Spokane
Manufacturing
Logistics
Aerospace
Life Sciences
Energy and IT
Agribusiness
Top Employers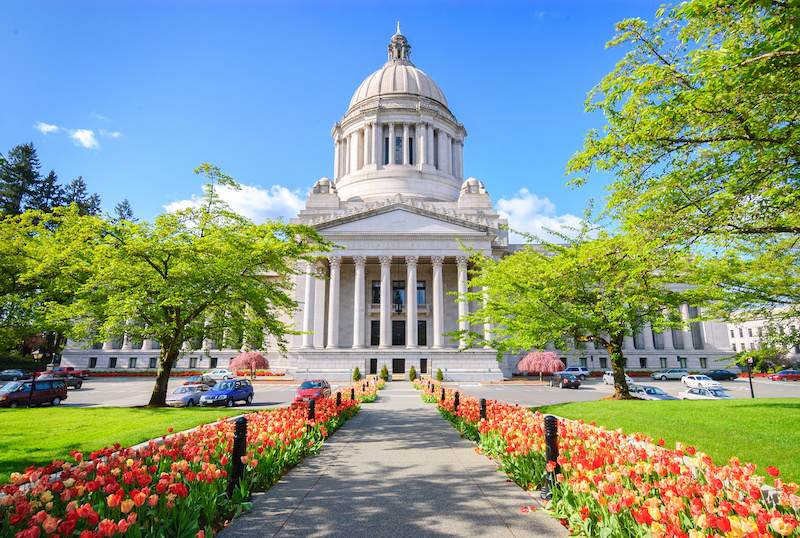 The top employers in Spokane are the State of Washington, Spokane Public Schools, Providence Sacred Heart Medical Center and Children's Hospital, and the 92nd Air Refueling Wing.
Spokane's top employer is the State of Washington, with an estimated 10,000 employees based in Spokane. The Washington State Department of Revenue, Washington State Department of Labor and Industries, Washington Department of Ecology, Division of Child Support, State Pesticide Management Division, Department of Services for the Blind, Bureau of Land Management, and Washington State Liquor Control Board are among the state government entities with a presence in Spokane.
Spokane Public Schools is the city's second-largest employer. The school serves more than 31,000 students and employs about 4,110 staff, including approximately 2,073 classroom teachers. There are 36 elementary public schools, serving grades K through 6. Six middle schools, for grades 7 and 8, are part of the public school system, while there are eight schools serving grades 9 through 12.
Providence Sacred Heart Medical Center & Children's Hospital is Spokane's third-largest employer. The 632-bed general hospital employs over 4,000 health care professionals and support staff, as well as over 800 specialists and primary care doctors. The facility serves as the only level II trauma center in the Inland Northwest.
Landing as the city's fourth-largest employer, the 92nd Air Refueling Wing is the U.S. Air Force unit of the Air Mobility Command Eighteenth Air Force, located at Fairchild Air Force Base. The wing is responsible for air refueling, cargo and passenger airlift, and aero-medical evacuations. It operates in 1,248 buildings and controls 4,223 acres. Over 2,200 active-duty military, as well as 700 civilians, are employed there.
Notable companies located in the Spokane region include BlueStar Technologies, Cisco, F5 Networks, Honeywell, Itron, Kaiser Aluminum, Telect, and Triumph Composite Systems.
Additional Large Companies in Spokane
Clearwater Paper
URM Stores
Pyrotek
Rosauers Supermarkets
North Central High School
Avista
Red Lion Hotels
Spokane Economy Facts and Figures
The cost of living in Spokane is about 4% lower than the national average, but about 17% lower than the state of Washington. While the costs of utilities, groceries, and goods and services are very near the national average, the cost of healthcare is higher, with a cost index of 115%, followed by transportation, with a cost index of 107%.
The cost of housing, however, is lower than the national average, with an index of 85%. The median list price for all homes in Spokane is about $299,900; condos can be found for as low as $130,000 in some areas while waterfront homes trend closer to $627,000. The housing market has been trending upward 13.2% over the past year.
The unemployment rate is 4.6% in Spokane, which is slightly higher than the rate of 4.3% for all of Washington, but very close to the national average unemployment rate of 4.7%.
Spokane has seen its job market decrease by -0.6% over the last year. Over the next decade, analysts expect job growth to increase 33.4%, which tracks with the expected U.S. average job growth.
Spokane's most popular occupations are in the fields of healthcare, retail trade, accommodations and food service, education, and manufacturing.
Average salaries by occupation in Spokane include approximately $52,000 for management roles, $38,600 for education careers, and $31,000 for non-farming production jobs. Healthcare salaries range from $23,888 for healthcare support roles to $64,864 for health practitioners.
Top-paying careers in Spokane are primarily found in the healthcare field and include physicians and surgeons, internists, family practitioners, dentists, and chief executives.
The median household income for Spokane is $42,814, which is lower than the national average of $53,482.
Washington has no personal income tax, but its sales tax is one of the highest in the nation. The minimum combined sales tax rate for Spokane is 8.9%, which is the combined rate for the state tax of 6.5% and the city tax of 2.4%. There is no county tax.
Working and Living in Spokane
Spokane's economy has a long history of reliance on natural resources, from agriculture to mining to forestry. But in more recent years, the city's economy has become more diversified, with healthcare, education, retail and trade, manufacturing, and hospitality among the sectors holding a more prominent role.
The cost of living in Spokane is slightly less than the U.S. average. While healthcare is higher than the national average, a lower housing index makes for affordable housing in the city. If you're interested in how this affects the Spokane real estate market, contact Unity Home Group at eXp Realty with Real Estate Spokane at (509) 808-4030 to speak to local real estate agents who can help you find your Spokane dream home today.