Spokane Must Do: Wild Sage American Bistro
Posted by Ryan Tollefsen on Thursday, June 23, 2016 at 7:47 AM
By Ryan Tollefsen / June 23, 2016
Comment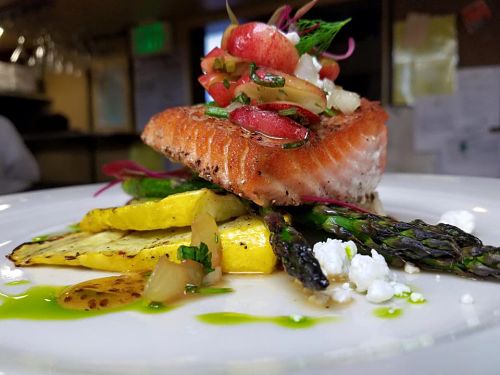 Tucked inside a red brick building with large windows, you'll find the three separate dining rooms of the Wild Sage American Bistro. Inside, light from outdoors shines through to the comfortably neutral space. Bistro may be the wrong term for this establishment; the Wild Sage sets the stage for a whole new form of dining.
The food at this restaurant is the stuff legends are made of – as reviewers will tell you and anyone that will listen. The menu changes occasionally, but you'll find perennial favorites every time you visit.
Try the Yukon Taquitos to whet your appetite; they're served with chile lime sauce, avocado, and salted cabbage. If you have a difficult time passing up the pan-seared Breast of Duckling with the house gnocchi and roasted vegetable sauté, you'll join so many of the Wild Sage's regular patrons. And then there's the Soon to Be Famous Coconut Cream Layer Cake. Try not to miss it; if you can save some room.
If you're wondering why the food tastes so fresh, it's because this restaurant sources as much of their ingredients locally – and promotes their suppliers actively. There is also a dedicated gluten-free menu with plenty of options.
Reservations are almost obligatory at this restaurant, and you'll want to schedule your special events in advance. It's just the sort of place you want to be for birthdays and anniversaries. The excellent wine cellar is also a draw card for anyone looking for the perfect date night restaurant.
And, when you fall head over heels with the food and service at the Wild Sage American Bistro, you'll be glad to know you can book private parties. This restaurant claims to be comfortable fine dining, and they're right.
If you want to know more about the Wild Sage American Bistro, feel free to check out their website. Don't forget to call (509) 456-7575 before heading over to 916 West Second Avenue.
Image: Wild Sage American Bistro/Facebook