Things to Do in Spokane: Spokane, WA Places to Go and Things to Do
Posted by Ryan Tollefsen on Tuesday, April 20, 2021 at 6:55 AM
By Ryan Tollefsen / April 20, 2021
Comment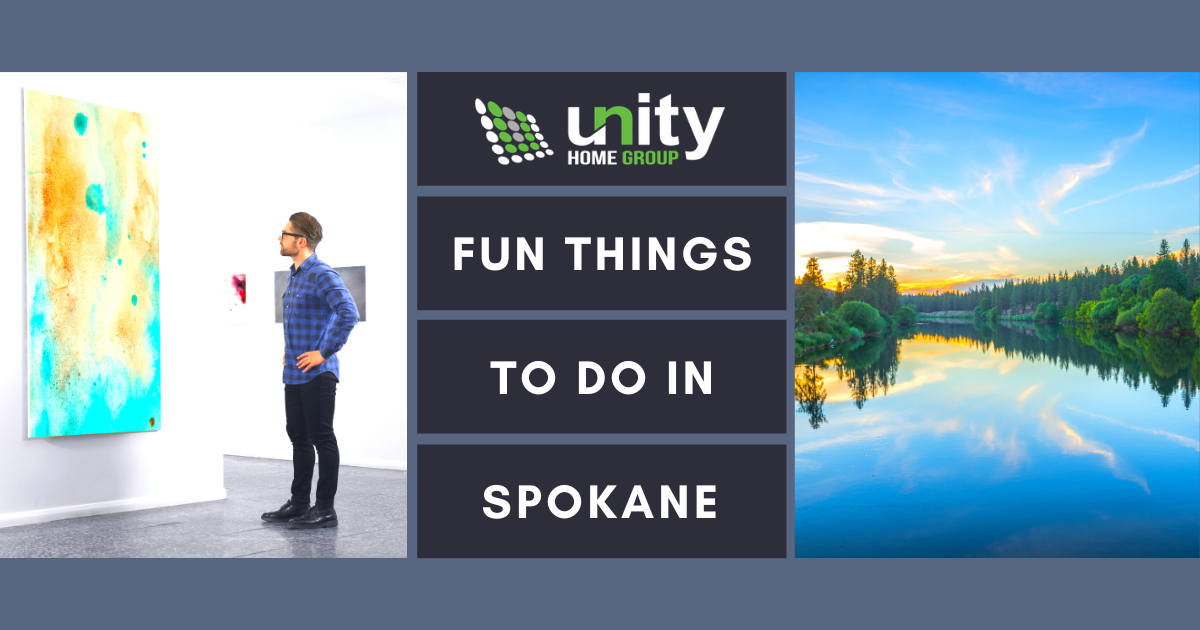 Spokane, Washington, is one of the largest cities in the Northwest. The 2010 population was noted at 208,916, but a decade later, it had grown to 222,081. The six percent growth is a good indicator of a healthy town. However, enjoying a community is about more than just stability and a healthy economy. Here's what to know about things to do in Spokane.
Spokane Outdoor Adventures
Spokane Outdoor Activities
Manito Park
Riverfront Park
Southside Family Aquatics Facility
Spokane River
Painted Rocks Nature Trail
Fish Lake Trail
There is nothing more relaxing and exhilarating than having a good time outdoors in the fresh air. Stresses fade away with the right walking trail or day out on the water. Bonds with furry friends grow stronger after an afternoon playing fetch. Fortunately, Spokane has a wide variety of sunlight fun sure to keep any outdoor enthusiast happy.
Parks
In part due to a commitment to public spaces, Spokane has many great parks. Established in 1904, one of the most popular is Manito Park, which has five areas comprised of different horticultural designs, including Rose Hill, Lilac Garden, and Nishinomiya Tsutakawa Japanese Garden. With almost 20 acres of beautiful botanical gardens and another 78 acres of green space, Manito Park has sites for duck watching, cafe-style meals, and playgrounds.
Located in downtown Spokane, Riverfront Park is the perfect place for a casual stroll through lovely scenery. The area also boasts several attractions, including the Looff Carrousel, Numerica SkyRide, and Providence Playscape.
Water Recreation
Sunshine by itself is fine, but a day of fun isn't the same without a bit of water recreation. At the Southside Family Aquatics Facility, visitors can enjoy a wide variety of activities, including three water slides, heated pools, play structures, water cannons, and a lazy river. Those who want to stay dry can enjoy sand volleyball, climbing walls, picnic areas, and basketball courts.
For more natural water fun, the Spokane River is a great option. The stream is more than 100 miles long and feeds into the Columbia River. Sightseers will love that the area includes several dams and a natural waterfall, while more active types will enjoy kayaking, paddle-boarding, or swimming. Fishers enjoy pursuing the big catch from boats or the shore.
Hiking & Biking Trails
The best thing about the great outdoors is that sometimes it seems to go on forever. That is why people who love hiking, running, biking, and walking trails can enjoy the Spokane community. For example, the Painted Rocks Nature Trail is more than three miles of popular and hidden gems paths. During the winter, the wide-open fields' low slopes make for great snowshoeing. Summer provides excellent running, hiking, and birdwatching opportunities.
Fish Lake Trail is nine miles of primarily asphalt surfaces through breathtaking views. The more stable walkway makes it a fantastic option for inline skating, biking, and low-impact walking. After the snow falls, visitors can enjoy cross country skiing through wide-open sky country.
No matter the outdoor activity, residents and visitors to Spokane will find opportunities around the city. Swimming, hiking, and running are great ways to exercise or generally reduce stress.
Spokane Shopping
Spokane Shopping Locations
Northtown Square
Northtown Mall
River Park Square
For many people, there is no better way to spend the afternoon than shopping. They love the feeling of finding a good deal or discovering the perfect items to fill their new construction home. Fortunately, Spokane has plenty of options to satisfy every variety of shopping enthusiasts. New residents will especially love wandering through the city searching for new niches.
Northtown Square has several shopping outlets, including national chain retail stores for shoes, clothing, and coffee. For more regular use, residents can enjoy the fitness center, hair salon, credit union, and restaurants. Nearby in both geography and name, Northtown Mall has an even larger number of shops. The size affords national companies like American Eagle Outfitters, Barnes & Noble, and Champs Sports.
Closer to the downtown area, River Park Square is an excellent place for an evening of dining and movies. Don't forget to visit Rocket Bakery for coffee and cake or have a world-famous caramel apple at Rocky Mountain Chocolate Factory.
Spokane Restaurants
Local Spokane Restaurants
Clinkerdagger
Elk Public House
Frank's Diners
In addition to national chains, Spokane has a few local iconic restaurants that have come to symbolize the city. With views of the Spokane River and downtown skyline, Clinkerdagger offers delicious seafood and steaks. This restaurant is primarily known for their prime rib, but they also have some great holiday specials.
Featuring dishes like beer-simmered until tender corned beef with potatoes and cabbage or Irish Cheese and Macaroni, Elk Public House is a Spokane classic. Serving as a cornerstone of Browne's neighborhood, it is a wonderful place for a beer with friends or special events.
For more than a century, Frank's Diners has been the place for award-winning breakfast and burgers. Frank's Breakfast Burger features a half-pound of lean ground chuck, crispy hash browns, egg, smoked bacon, cheese, and a special dressing. The Creole Seafood Omelet combines lobster, rock crab, tomato, two kinds of cheese, and Creole hollandaise sauce.
Arts & Culture in Spokane
Spokane Arts & Culture Locations
Bing Crosby House
Northwest Museum of Arts and Culture
Marmot Art Space
Avenue West Gallery
First Interstate Center for the Arts
Spokane Civic Theatre
While food is an essential part of any city, new Spokane residents and visitors must also sample the arts and culture scene. There are several museums, galleries, and performance venues that must be visited.
Museums
Fans of comedian, actor, and singer Bing Crosby, Jr. are in for a treat. Bing Crosby House is a Spokane museum containing greater than 200 pieces of memorabilia, including various awards and gold records.
Each year, more than 100,000 people visit the Northwest Museum of Arts and Culture to view more than a million artifacts, historical materials, research projects, and more. Since 1916, the institution has been thrilling and educating curious minds about the local culture and antiquity.
Art Galleries
Numerous art galleries seek to provide opportunities for creative minds to explore projects in Spokane. Marmot Art Space gives hosting room to some of the most talented local, national, and international artists. The gallery is available for a public walkthrough, sometimes including time for interactions with the creator. The facility is also an excellent site for homeowners and entrepreneurs searching for centerpieces to adorn their luxury homes.
Avenue West Gallery is an artist cooperative featuring creative types. Art buyers can find watercolor, oil, and acrylic paintings, plus sculptures, woodwork, and more. The co-op provides a low-pressure atmosphere for visitors to browse or buy at their own pace.
Dance & Theater
Stage art has been a staple of the entertainment scene for more than a thousand years, which makes taking in a show a unique historical and cultural experience. The First Interstate Center for the Arts makes the most of inspirational adventures. Each annual schedule includes Broadway-like theater, visiting national comedians, musical concerts, and stage festivals.
Spokane Civic Theatre hosts a regular parade of stage shows and an academy for aspiring performers. It is a great place to join the action on stage or take in an evening performance.
No matter what kind of artistic endeavors residents or visitors enjoy, Spokane has a wide variety of opportunities for cultural experiences. Whether a participant wants to laugh, love, cry, or become inspired, local creators and national legends can fit the bill in this city.
Spokane Nightlife
Spokane Nightlife Destinations
Ridler Piano Bar and Music House
Zola Spokane
Spokane Swing Dance Club
For some people, the real fun starts at the end of the day. People who like to dance or listen to music will find a home within Spokane. Specifically, downtown offers the Ridler Piano Bar and Music House, known for dueling piano shows every Friday and Saturday. The bar also invites guest musicians and singers to perform live shows.
Zola Spokane has a wonderful drink and food menu with unique items like Chili Pineapple Chicken Skewers and sweet potato fries with curry ketchup. Patrons can enjoy the food with live music and an interior filled with original art pieces. People who love to dance may also enjoy spending time at the Spokane Swing Dance Club. From lessons and workshops for beginners to weekly club dances, new attendees can bring a partner or meet someone new.
Spokane Is a Great Place To Have Fun
Spokane is a fantastic place for people to partake in a wide variety of activities. Those looking for culture, parties, or a peaceful walk through the park have their choice of experiences each week. Those planning to move to Spokane should research all the city offers for the best experience.