Spokane Vacation Guide: What to Do When Vacationing in Spokane, WA
Posted by Ryan Tollefsen on Friday, April 30, 2021 at 7:01 AM
By Ryan Tollefsen / April 30, 2021
Comment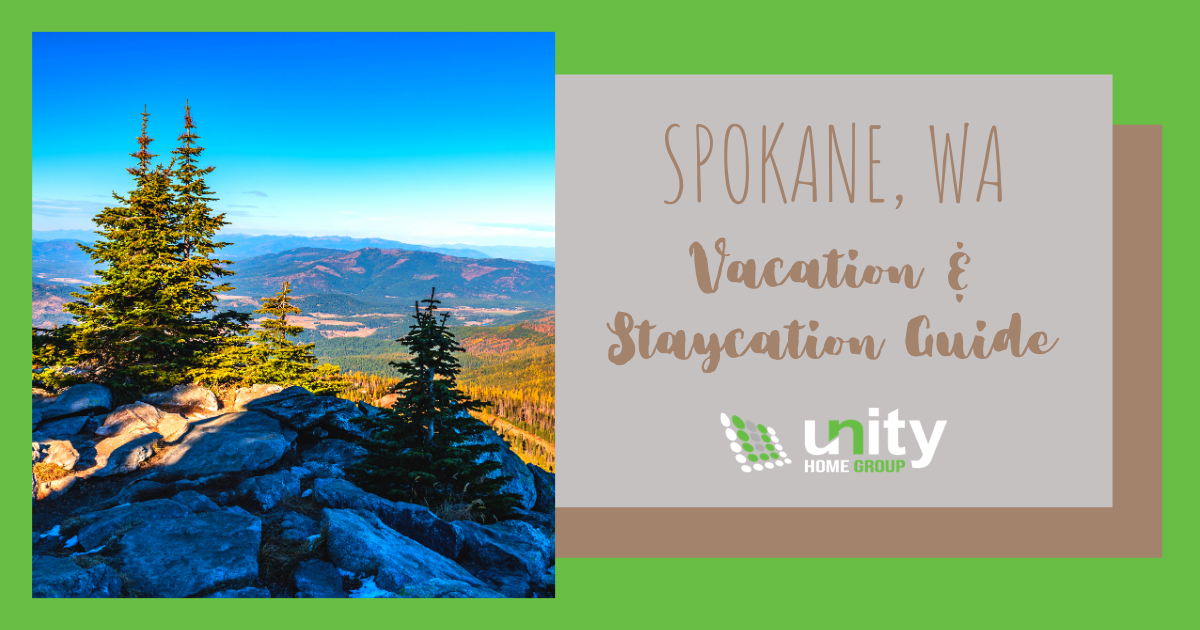 A cool, pleasant climate and historic homes and charm make Spokane, Washington, an ideal place to live or visit. Whether you are a visitor exploring the region for the first time or a longtime resident taking time to appreciate their city, Spokane can offer a satisfying experience. Not sure where to go? Read more to discover the best lodging, food, and attractions for a staycation or vacation in Spokane.
Lodging in Spokane
Those who don't already have a condo or townhome in Spokane or want a mini getaway have many attractive options. The following places are just a few examples of the area's lovely accommodations.
The Historic Davenport
The Historic Davenport Amenities
Grand ballroom
Spanish Renaissance lobby
Jazz Age style lounge with a stained-glass ceiling
Luxury bath products
Carved mahogany furniture
Rooms with walk-in marble showers or deep soaking tubs
Address: The Historic Davenport, 10 S Post St, Spokane, WA 99201
For more than a century, The Historic Davenport has offered some of Spokane's most luxurious accommodations. Architectural details like the grand ballroom, the Spanish Renaissance lobby, and the Jazz Age-styled lounge with an intricate stained-glass ceiling create a stunning backdrop for any Spokane staycation or vacation.
Located on the corner of Lincoln Street and Sprague Avenue, this Spokane hotel makes the perfect home base for exploring the city. In the rooms, guests can enjoy amenities that include luxury bath products and carved mahogany furniture. Rooms are equipped with either walk-in marble showers or deep soaking tubs.
Roberts Mansion
Roberts Mansion Amenities
23 rooms
Pool table
Large library
Address: Roberts Mansion, 1923 W 1st Ave, Spokane, WA 99201
This sprawling mansion built in 1889 is one of the gems of Spokane's historic Browne's Addition. The 23-room Robert's Mansion underwent 25 years of restoration to reflect the Victorian period.
The inn is located in a residential neighborhood, making it a quiet and pleasant place to relax at the end of the day. However, its location is also convenient to many area restaurants and attractions.
The proprietors are knowledgeable about the mansion's history and are happy to share what they know with guests. Accommodations include well-appointed rooms for lounging, a pool table, and a large library.
Marianna Stoltz House
Marianna Stoltz House Amenities
Bed and breakfast
Wrap-around veranda
Free Wi-Fi
Premium bath products
Near art galleries, wineries, and Riverfront Park
Address: Marianna Stoltz House, 427 E Indiana Ave, Spokane, WA 99207
The Marianna Stoltz House bills itself as Spokane's oldest bed and breakfast. The inn, located near Gonzaga University, was built in 1908. Listed on Spokane's register of historic landmarks, the building contains rich architectural details, including a wrap-around veranda, fir woodwork, leaded glass windows, and polished maple floors. Guests have exclusive use of the parlor, sitting room, and dining room, all furnished with authentic period-appropriate pieces.
Guests have their choice of four unique rooms. Amenities include a large breakfast, free Wi-Fi, and complimentary premium bath products. The university area location is convenient for visiting art galleries, enjoying wine tastings at the area's ten wineries, and sightseeing at Riverfront Park and the Loof Carousel.
Food & Dining in Spokane
Spokane is a great foodie destination. Whether someone is taking time to appreciate their city or visiting on vacation, they will find options at every price point catering to every taste. Spokane's iconic restaurants especially shine. These are a few of the best places to appreciate dining in the city.
The Elk
Popular Dishes at The Elk
Bulgogi Beef Tacos
Apple-Chutney Pork Loin
Grilled Lamb Sandwiches with tzatziki and red onions
House-Made Bean Burgers
Kung Pao Cauliflower
Address: The Elk, 1931 W Pacific Ave, Spokane, WA 99201
Hours: 11 a.m.–11 p.m. daily
The Elk has been a popular Browne's Addition destination since opening in 1999. Offerings include a range of appetizers, elevated bar food, and hearty entrées. Specials change weekly and offer creative options like Mediterranean lamb burgers and beef ragu.
Many people consider the patio one of the best outdoor dining options in the city. The building was once a local pharmacy and soda fountain and maintains its charm to this day. Visitors can sample one of the craft cocktails created in-house or any of the many Northwest microbrew beers available.
Clinkerdagger
Popular Dishes at X
Almond Crusted Sea Scallops
Char-grilled Steaks
Herb Crusted Prime Rib
Seafood Louie Salad
French Dip Sandwich
Address: The Flour Mill, 621 W Mallon Ave, Spokane, WA 99201
Hours: Sunday–Tuesday 3–8:30 p.m. / Wednesday & Thursday 12–8:30 p.m. / Friday & Saturday 12–9 p.m.
Clinkerdagger has been an area mainstay for over 40 years. Offering an excellent view of the Spokane skyline and the Spokane River, the restaurant has been voted an area favorite, with awards that include Best Restaurant to Get Your Parents to Take You To and one of OpenTable's 100 Most Scenic Restaurants. It's a perfect choice for celebrating a special occasion, whether it's an anniversary, closing on a new condo, or simply a way to enjoy Spokane.
Clinkerdagger features a range of classic American grill favorites, accompanied by craft cocktails and a rotating selection of draft beer.
Skyway Café
Skyway Café
California Benedict
Veggie Scramble
Chicken Fried Steak
Homemade Sticky Buns
Strip Steak Sandwich
Skyway Turkey Melt
Address: Skyway Cafe, 6105 E Rutter Ave, Spokane, WA 99212
Hours: 6 a.m.–2 p.m. daily
Skyway Cafe is an excellent option for breakfast or lunch seven days a week. Located at Felts Field, this café allows visitors a perfect observation point to watch small planes and helicopters take off and land. The café itself is aircraft themed, with model airplanes hanging above and airplane art decorating the walls.
Food at the café is reasonably priced and comes in generous portions.
Those planning to visit should check the events calendar in advance, as Felts Field hosts car shows and air shows regularly.
Attractions in Spokane
Spokane offers many opportunities to enjoy high culture and pop culture alike. Events throughout the year showcase the best of the area's local artists, along with national and regional favorites.
Northwest Museum of Arts and Culture
Address: Northwest Museum of Arts and Culture, 2316 W 1st Ave, Spokane, WA 99201
Hours: Tuesday–Sunday 10 a.m.–5 p.m.
This arts and culture destination hosts over 100,000 visitors every year. Its more than one million artifacts and archival materials include a comprehensive collection of art, textiles, and historical objects. The Northwest Museum of Arts and Culture is also the holder of the largest known collection of Plateau Indian art and artifacts. Its Regional History Department preserves a range of artifacts from all Inland Northwest people and includes quilts, household artifacts, decorative arts, and more.
Northwest features an array of permanent and rotating exhibitions. Visitors may get an opportunity to explore the area's history of textile production or see the dramatic costumes worn in TV series like Downton Abbey. There are also regular lectures, workshops, tours, and film events throughout the year. People can also drop in for a yoga session or create something personal in the Sketch Your Story workshop.
Martin Woldson Theater at the Fox
Address: Martin Woldson Theater at the Fox, 1001 W Sprague Ave, Spokane, WA 99201
Martin Woldson Theater at the Fox was initially built in 1931 as a 2,300 seat movie theater. After an extensive renovation, the stunning Art Deco property reopened in November 2007 and has been the home of the Spokane Symphony ever since.
The theater is on the National Register of Historic Places, the Spokane Register, and the Washington Heritage Register. Visitors will enjoy historic details like the intricate art deco murals and the theater's original hand-painted fire curtain.
The Symphony, first formed in 1945 as the Spokane Philharmonic, is a 70-piece professional orchestra that performs for over 150,000 listeners every season. In between these performances, audiences can catch a wide range of acts at the theater. Music in many genres, comedy, and presentations of films with discussions are regular features to check out during a Spokane vacation or staycation.
Lilac City Comicon
Address: Spokane Convention Center, 334 W Spokane Falls Blvd, Spokane, WA 99201
Lilac City Comicon has been held every year in early October at the Spokane Convention Center since 2007. The event puts a big focus on making the show fun and affordable for everyone.
The show brings in national and international figures from comic books, movies, and television, in addition to local artists. Past guests have included actor Lou Ferrigno, cosplayer Alaska Mauve, makeup effect artist Rayce Bird, and many more.
During the convention, attendees can explore exhibitions, shop for collectibles, or sit in on panels and performances. People from out of town can book a discounted room at the Doubletree by Hilton, which is the official sponsored hotel for the event. The Convention Center is located along the south bank of the Spokane River in the downtown area, making it convenient to head out to dinner after a day enjoying the show.
Adventures in Spokane
In Spokane, people are never too far from outdoor adventures. The area is host to the glistening Spokane River and not far from the towering Selkirk Mountains. The attractions below are either within the city or just a short drive away.
Riverfront Park
Address: Riverfront Park, 507 N Howard St, Spokane, WA 99201
Hours: 6 a.m.–midnight daily
Riverfront Park offers adventures for all interests. Visitors can cruise around the Numerica Skate Ribbon on roller skates, non-motorized scooters, or skateboards. Admission is free, and scooters and skates are available for a nominal charge. During winter, the loop is converted for ice skating and connects to a 3,500-square-foot pond. The area around the skating loop is dotted with fire pits for spectators to watch while enjoying a cup of cocoa.
The Numerica offers a spectacular view of the second-largest urban waterfall in the U.S. The 15-minute ride in the enclosed cabin allows visitors to enjoy the trip in all types of weather.
Other attractions at Riverfront Park include the Providence Playscape, pedal karts, the Spider Jump, and the historic Looff Carrousel. Refreshments are available at the Sky Ribbon Café. Between visiting attractions, people can stroll or ride bikes on trails that wind throughout the park.
Mount Spokane State Park
Address: Mount Spokane State Park, 26107 N Mt Spokane Park Dr, Mead, WA 99021
Hours: 7 a.m.–10 p.m. daily
The sprawling Mount Spokane State Park boasts over 100 miles of trails that weave through the forested Selkirk Mountains. Hikers and climbers can head to the summits of Day Mountain, Mount Spokane, and Kit Carson. At the top of Mount Spokane lies the historic Vista House, ready to be explored. Local flora and fauna include looming Ponderosa pines, ripening huckleberries, and giant moose.
There are 79 miles of trails open for mountain biking and horseback riding. During the winter months, activities in the area include snowmobile rides, skiing, and snowshoeing. First-come, first-served camping is available at Mount Spokane and the Quartz Mountain fire lookout.
Visitors can purchase a Discover Pass either online or at automated pay stations in the park. During winter, visitors must buy Sno-Park permits, which are also available at the pay stations. Annual and day passes are available.
Spokane Falls
People can hear the Falls long before seeing them, first as a low rumbling, then as a loud roar. Spokane Falls has been an important gathering place for thousands of years. Native American tribes from all over the Columbia Plateau once came here to catch thousands of salmon to feed their people throughout the year. Later, settlers began to use the Falls for electricity. The first hydroelectric dynamo was installed at the Falls and provided enough power for ten street lamps.
Today, the Spokane Falls are a dramatic landmark for visitors and residents alike. Visitors can get up close to the upper falls while crossing either of two pedestrian suspension bridges. There are numerous vantage points for viewing the falls after seeing them from above.
A Place of Truths Plaza features statues created by a member of the Colville tribes that commemorate the area's indigenous history. At Huntington Park, the Tribal Gathering Place plaza leads visitors to a viewing area to see the lower falls. A viewing spot is nestled under the Monroe Street Bridge to get viewers close to the waterfall's base.
When to Visit Spokane
Spokane offers something different in every season. During the summer, the weather is warm and dry. Not much rain falls, and temperatures are usually in the 80s or 90s. Fall temperatures drop to the 60s and 70s as leaves change color in the surrounding mountains, creating spectacular views. Both seasons are excellent times for sightseeing in the city and hiking around Mount Spokane State Park.
Spring in Spokane tends to be chilly, so those visiting then should pack a coat. Average temperatures stay around the 40s and 50s until after the Fourth of July most years. Flight prices tend to be lower this time of year, which can mean a more affordable trip to Spokane. Spring is also a good time for people to focus on indoor activities like visits to museums, galleries, and theaters.
Winter is Spokane's off-season, which can mean lower flight prices and smaller crowds. Temperatures hover in the 20s, and there is often snow on the ground for skiing and snowmobile riding. While attractions stay open all year, visitors are cautioned not to drive across the pass in the Cascade Mountains in winter. This pass is often closed due to heavy storms.
Plan Your Spokane Vacation or Staycation Today
No matter when one chooses to explore Spokane, the area has a lot to offer. Residents can always find something new to enjoy in the rich cultural and natural environment. By taking the time for a staycation, those who live in or have recently moved to Spokane can get a better appreciation of the area's offerings and find they enjoy their daily lives in the city even more than before. Those visiting the area and decide to make a permanent move to the city can contact a Unity Home Group real estate professional at 509-808-4030 to find their dream Spokane home today.