Best Things to Do With Kids in Spokane: Spokane, WA Family-Friendly Activity Guide
Posted by Ryan Tollefsen on Friday, May 21, 2021 at 3:39 PM
By Ryan Tollefsen / May 21, 2021
Comment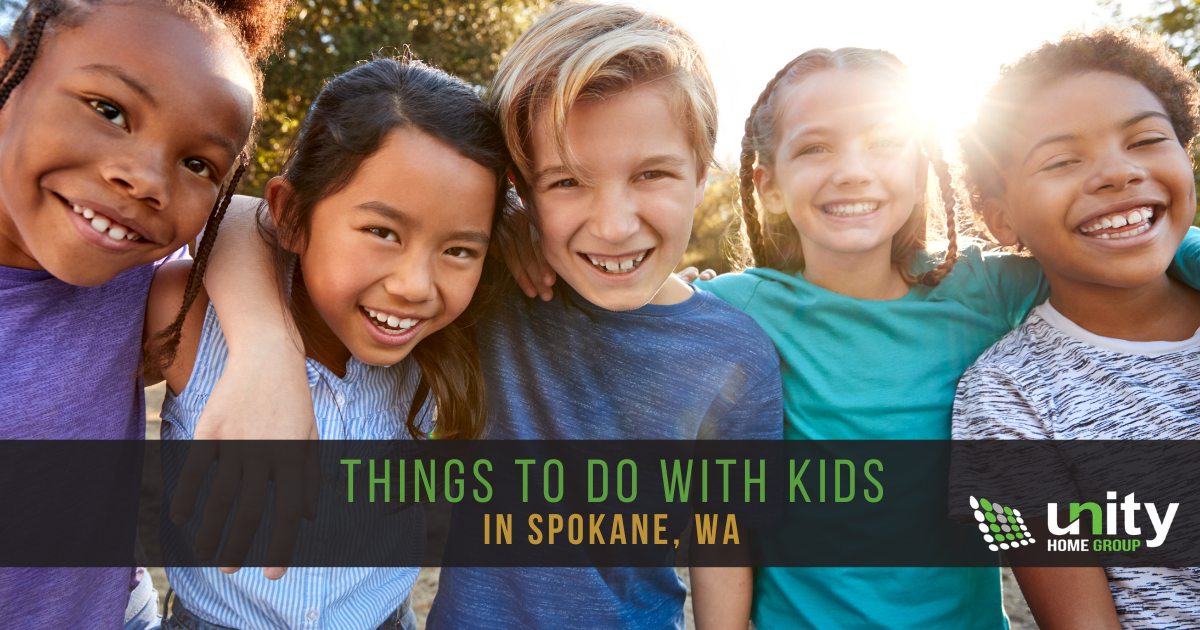 As a growing cultural and economic center, Spokane is gaining popularity for those looking for a change of scenery in northwestern Washington. Known as the Lilac City, Spokane is recognized as the birthplace of Father's Day and has a rich history to accompany the community's excitement.
From sports fans and foodies to outdoor enthusiasts, art lovers, and explorers, there's something for everyone here, including activities and outings that appeal to kids. With more new construction homes going up alongside Spokane's existing historic homes, more people are appreciating all that Spokane offers children. Here are some of the best things to do with kids in Spokane, Washington.
Numerica SkyRide Over the Falls
Numerica SkyRide Amenities
Cable ride
15-minute ride time
Views of city and Spokane Falls
Take a 15-minute trip through the air on the Numerica SkyRide that offers panoramic views of the city and the stunning Spokane Falls that are the second-largest, suburban-located falls in the U.S. Passengers claim the best views are during raging water seasons from March through June, but the sights of City Hall, Huntington Park, the Monroe Street Bridge, and other historic landmarks are always impressive.
This Riverfront Park attraction has been routinely named one of the world's top scenic cable rides by multiple publications for good reasons. Each enclosed cabin can hold up to six passengers and run year-round regardless of the season, though they may close during high winds or temperatures over 90 degrees. Bring a camera and prepare to snap photos to capture memories and perhaps even a rainbow.
Numerica SkyRide Additional Information
Phone: 509-625-6600
Admission: Adults $9.95 / Youth (3–12) $6.95 / Ages 2 and under free
Riverfront Park
Riverfront Park Amenities
100 acres
SkyRide
Looff Carrousel
Sculptures of Bloomsday Run competitors
Numerica Skate Ribbon (winter)
Playgrounds
Riverfront Park in downtown Spokane is a central hub for entertainment and activities for everyone, but it's a special retreat for kids seeking thrills. Noted by National Geographic as one of the nation's most beautiful urban parks, this place is very popular with locals and visitors alike. In addition to special and seasonal events, just taking a hike around the park or stopping at one of the playgrounds is a treat, but there's much more awaiting here.
Spanning across 100 acres of lush landscapes and thrilling interactive experiences, Riverfront Park was the site of the World's Fair in 1974. Today, visitors can ride the SkyRide and view the massive Spokane Falls. Take a round or two on the historic, hand-carved 1909 Looff Carrousel, which has an animal waiting for passengers.
Another highlight honors the Bloomsday Run with a series of life-sized sculptures of running locals taking part in a 40+ year Spokane tradition. This is also a top photo-op spot in town. In the wintertime, a special attraction is the Numerica Skate Ribbon, a 16-foot wide ribbon of ice that winds down the park's hill, much to the delight of skaters.
Riverfront Park Additional Information
Phone: 509-625-6600
Hours: Vary depending on attraction
The Blue Zoo
The Blue Zoo Amenities
Interactive aquarium
Touching and feeding creatures
Special show on a pirate ship
Meet and greet with a mermaid
View dive show
Water tables
Educational reptile show
This interactive aquarium in Northtown Mall appeals to the hands-on kid in us all. With a mission to educate the public about water creatures, reptiles, and birds, The Blue Zoo Aquarium is a large attraction with numerous special events and exhibits. If the idea of touching and feeding unique critters like stingrays, seahorses, sharks, octopi, and other new friends sounds fun, this is the place to be.
A lifelike pirate ship is within the freshwater and saltwater play centers where a special show complete with sword fighting occurs. Meet and greet with a mermaid, view a dive show, and watch the action that's all included with the admission price. There are multiple water tables for playtime, in addition to an educational reptile show at this underwater adventure zone.
The Blue Zoo Additional Information
Phone: 877-425-8396
Hours: Sun 11 a.m.–6 p.m. / Mon–Sat 11 a.m.–7 p.m.
Escape Entertainment North Spokane
Escape Entertainment North Spokane Amenities
Three themed escape rooms
Puzzles to solve in groups
Team-building
Escape Entertainment North Spokane is the hottest place to make an inner-city escape. These real-world puzzle games challenge the mind and every keen sense a group has as they work together to break out of themed rooms. Each clue discovered must be unlocked by teammates, boosting the pressure to work closely together.
Patrons have one hour to beat the odds and work their way out of one of three rooms at the North Spokane location. Prison Break puts guests under the watch of the warden who's determined to prevent escape. Escape the haunted Room 13 as an initiation dares one to try and leave the hotel. Be a secret agent with Stealth Force to fight the enemies attempting a missile strike. Deactivate the weapons to escape the room and save the world. Book a spot today for a uniquely thrilling time.
Escape Entertainment North Spokane Additional Information
Green Bluff Growers
Formed in 1902, the Green Bluff Growers' Association began as a small operation but has grown into several farms and fresh food stands across the Spokane region. Each location is independently owned and operated and offers various events, produce, meats, seasonal activities, and opportunities to pick fruit to take home. Favorite year-round places to visit at Green Bluff include Hansen's Green Bluff Orchard and Beck's Harvest House, home to a Fall Harvest Festival.
Hansen's Green Bluff Orchard
Hansen's Green Bluff Orchard Amenities
Pick or buy fresh fruit
Pick fresh flowers
Homemade cider
Come to Hansen's to indulge in tasty apples, berries, cherries, plums, peaches, and more. Pick them fresh, or head to the prepackaged section where baskets of goodies and homemade cider await. There's also a fresh flower field where $5 gets a whole bouquet and vase for patrons to take home.
Hansen's Green Bluff Orchard Additional Information
Beck's Harvest House
Beck's Harvest House Amenities
Fall Festival
Food trucks
Face painting
Pumpkin donuts
Five-acre corn maze
By far, Beck's Harvest House is one of the most popular farms on the bluff, especially during the Fall Festival that lasts for a month from the last week of September until just before Halloween. Patrons can enjoy food trucks, face painting, pumpkin donuts, and a five-acre corn maze. There are many kid-friendly attractions on-site to be enjoyed at various price points.
Beck's Harvest House Additional Information
Phone: 509-238-6970
Hours: 9 a.m.–4 p.m. daily
Cat Tales Wildlife Center
Cat Tales Wildlife Center Amenities
Bears
Turtles
Wolf-dogs
Leopards, pumas, lions, and tigers
Opportunity to feed lions, tigers, and bears
As a non-profit, volunteer-led big cat sanctuary, Cat Tales Wildlife Center has grown from a handful of rescue animals to dozens over the past three decades. There are more than just cats here, too. Many of the non-feline animals are orphans taken on through the center's rescue and educational program. Highlights include bears, turtles, wolf-dogs, leopards, pumas, lions, and tigers, to name a few.
There are animals young and old here, and there are always new family members to come and visit. The center offers guests the chance to feed their lions, tigers, and bears for an additional fee.
Cat Tales Wildlife Center Additional Information
Phone: 509-238-4126
Admission: $15 adults / $10 children / $12 students & seniors
Fun Awaits in Spokane
While adults enjoy the sweet life in beautiful Spokane, there are plenty of attractions designed to entertain and educate the youth in the community. Come and embrace your sense of adventure, as there are many fun places near some of the city's most desirable housing and job opportunities.
Looking for a home in Spokane? Contact Unity Home Group at eXp Realty with Real Estate Spokane at (509) 808-4030 to get in touch with a Spokane real estate agent who can help you find your dream home.